From Crux Now:
ROME – For the second time, Pope Francis is sending a special envoy to the famed site of Medjugorje, in this case to care for a local parish that sees millions of pilgrims arriving each year because of what some believe are apparitions of Mary Our Lady Queen of Peace at the Bosnian-Herzegovinian location.
The Vatican announced Thursday that Archbishop Henryk Hoser, now retired as the Archbishop of Warsaw in Poland, has been appointed Apostolic Visitor "for an undetermined time" to the Saint James parish of Medjugorje, which is run by the Franciscan friars. His missions, according to a statement released by the Holy See's Press Office, will be to "guarantee a stable and continuous accompaniment of the parish community of Medjugorje and the faithful who arrive in pilgrimage, whose demands require special attention."
[resources: Her messages]
From Vatican Insider:
When the commission concluded its work – with a positive judgment on the supernatural nature of the phenomenon at least in the first weeks of apparitions and the proposal to separate Medjugorje from the diocese of Mostar transforming it into a shrine under the direct control of the Holy See – the results were put into the hands of Pope Francis, who repeatedly publicly showed appreciation for the work and its conclusions. The director of the Vatican Press Office Greg Burke stressed the "pastoral, not doctrinal" character of Hoser's mission and therefore, today's decision "does not enter into the doctrinal questions" concerning the truthfulness of the Marian apparitions of Medjugorje. The appointment therefore represents "not the conclusion" of the Medjugorje affair, "but the next step" to Hoser's first mission. The prelate, moreover, "will have residence in Medjugorje, for a tighter collaboration with the bishop and the local Franciscans."
It is well known that Monsignor Hoser, who was not in charge of overseeing the apparitions as such, but of the pastoral care of the faithful, was personally very much in favor of the recognition of the apparitions. His indefinite nomination to "commissioner under the direct authority of the Pope to accompany the faithful brings as an implicit judgment the fact that in the past this was not done or was not done with due attention on the part of the diocese of Mostar, whose pastor, Monsignor Ratko Peric, decisively opposes the apparitions by branding them as false.
[Return to www.spiritdaily.com]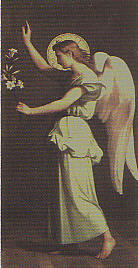 Pray always for purity and love
+