---
The photo above, via AP, was in  the Orange County Register last week, and it is fairly horrendous.
The smiling faces, at the bedside of an obviously infirm woman?
It's not to lift her spirits, as much as to say a final — very final — good-bye.
For this was a "Right To Die" party.
Diagnosed with ALS (Amyotrophic lateral sclerosis, also known as Lou Gehrig's disease), Betsey Davis preferred not to end up on a ventilator and feeding tube, and so she got a prescription, in California, to kill herself.
Her sister Kelly is there, reassuring and joshing with her.
A short while later, as the caption reads, "at the end of the party, the 41-year-old woman diagnosed with ALS took a cocktail of lethal drugs and died, becoming one of the first California residents to take life-ending drugs under a new law that gave such an option to the terminally ill. A state law allowing physician-assisted deaths went into effect in June 2016."
Really, it is: evil.
On the map, dark blue equals legal euthanasia. California, like Oregon — like the state of Washington, like the District of Columbia, like Vermont — have chosen a course that will pay dark dividends.
New York and New Jersey are now considering doing the same (they're represented at left in yellow).
Evil is the word live spelled backwards and now California, Oregon, and Vermont — Colorado, Montana —  are turning the term "humanitarian" backwards. 
According to the national nonprofit Compassion & Choices, since June 9, 2016, at least 504 terminally ill adults in California have received prescriptions for the lethal drugs.
Let it sink in that pharmacies are dispensing drugs like Seconal (a sedative that costs around $3,500 per prescribed dose) and other sedatives (one combination that stops the heart is about $600) to those who seek to end their lives.
Let us pray.
For this leads to a bleak entry into the afterlife.
Noted a fellow named Ashler Elmekiess: "My ex-life ended when I tried to take my own life with over seventy medicinal tablets, over 26 of which were aspirin 500 mg. That night I had a 'before-death experience.'

"It was dark everywhere yet there were sparkles all around like little stars. I was sitting (don't know on what, it was like there was no ground or nothing beneath me) and was not breathing or feeling anything. When I tried to touch my body, my hand went right through it."
Said Angie Fenimore, a young mom who took her own life — but through God's Mercy returned [see a video clip below] — "I was passing over into a different sphere. My soul was disconnecting from my body with a hum that kept growing louder, rising to a whine as the vibration of death pulled me deeper. Where was I? I was immersed in darkness. My eyes seemed to adjust, and I could see clearly even though there was no light. The darkness continued in all directions and seemed to have no end, but it wasn't just blackness, it was an endless void, an absence of light. It was completely enveloping. I swung my head around to explore the thick blackness and saw, to my right, standing shoulder to shoulder, a handful of others. They were all teenagers. 'Oh, we must be the suicides.'" 
The California law passed after gaining momentum from the advocacy of UC Irvine graduate Brittany Maynard, who moved to Oregon because of that state's Death With Dignity Act and who is another prayer need.
–MHB
[Return to www.spiritdaily.com]
[Special Reports]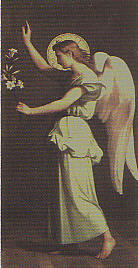 Pray always for purity and love
+++