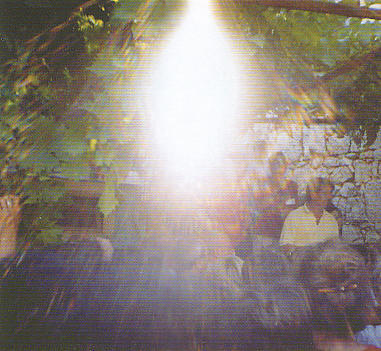 We sat down [a few years back] with Mirjana Dragicevic Soldo, one of the seers at the apparition site of Medjugorje in Bosnia-Hercegovina and the first to receive all ten secrets. We covered a number of issues with Mirjana — a humble, gracious woman whose daily apparitions ended in December of 1982 but who still sees the Blessed Mother once a month (as well as on her birthday).
Before we start, a caveat: we are at the mercy of translation. Sometimes, even with the best interpreter (and ours was excellent), there are miscommunications. Remember also that each seer has different experiences and secrets. With Mirjana, we covered both old and new ground.
For years it has been claimed that the Pope once described Medjugorje as the "fulfillment and continuation of Fatima." Have the seers ever been told anything like that, we asked? (For two best books of seer interviews, see bottom.)
Yes, replied Mirjana. "It was said to Marija [another seer]. Our Lady told her, 'What I have started at Fatima I will finish at Medjugorje.'" In fact if she ever visits another major Marian shrine, said Mirjana, it will be Fatima because "it is so simple."
We asked her about Church approval for Medjugorje. Right now, such is in limbo, with the matter in the hands of a national commission of bishops headed by Sarajevo Cardinal Vinko Puljic — whose vicar said earlier this year that the matter will not be decided until the apparitions conclude. In 1986 the local bishop attempted to reject the apparitions, but the Vatican, in the form of Cardinal Joseph Ratzinger, intervened and took away the local bishop's authority to do so. Since then the national commission has stated only that thus far it has no proof of the supernatural and will further investigate.
One of the reasons Medjugorje has survived is the strong support of John Paul II, and Mirjana is the only seer who met with him privately. That was in 1987, and she reports that he told her he had read the messages from Medjugorje as well as a book about the apparitions. During a ten-minute session the Pope never inquired about the secrets but asked how the Blessed Mother appeared. He also said that if he was not Pope, he would have visited there already.
If John Paul leaves, we asked, did Mirjana think Medjugorje would risk Church rejection?
"I really can't say anything about it," answered the seer. "All I can say is that I really have great faith in Our Lady, and I know that she will fix it all."
Did she have contact with the Sarajevo Cardinal's office?
"I've never had any contact with the Bishop or the Cardinal," replied Mirjana. "They have never asked that. If they did ask that, we would respond immediately. We learned from both Our Lady and our own parents to respect the priests."
The last time we spoke to Mirjana she revealed that in 1999 she had taken and passed a lie-detector test administered by Italian and Austrian scientists. What is it like to be a seer from a site that is now ranked by many alongside Lourdes? What about the many who flock to seers, who gather by the hundreds at her gate, who ask for prayers?
"A visionary is not special," said the seer. "We can make mistakes like all of you. Blessed Mary reads our hearts and knows all these things that we want. If you pray, she is reading your hearts and knows all these things."
Like other visionaries, Mirjana has emphasized that no picture, however beautiful, captures the way the Blessed Mother — known here as Gospa — actually appears. What about a large painting in her basement that shows the Blessed Mother in flowing blue robes? "It is a beautiful painting," said Mirjana, "but we never saw any painting, any picture, that even came close to the way Our Lady looks. She has dark hair and you can see it down low, so it is long."
Such pictures capture essential qualities, says the seer, but do not really look like her. Nothing earthly, not even miraculous pictures, can. The seer says that she is especially drawn, however, to the Shroud of Turin.
Did Mirjana, who is now 37 and the mother of two girls, ever contemplate becoming a nun?
"For seven days I sat in my room in prayer and fasting, and finally I realized that I really wasn't invited to become a nun, and then I felt peace in my heart. When you feel that peace, then you will know that you made a good decision."
I asked about other seers. "As you know, there are countless others," I said. "We have the website and we look at information about many seers and sometimes we find out certain things that prove certain ones are probably not real. Our policy is not to besmirch any of them, if we can avoid it. When the Church speaks or rules, we post that. Do you think we should continue that policy, that when we know something we should just say nothing, or that with charity and love we should print what the facts are?"
"We need to love them and feel about them as brothers and sisters," replied Mirjana adroitly, "and only then can we pray for them."
I mentioned that my concern was for people who go to such seers and may suffer detrimental effects.
"I'm concerned about them as well," said Mirjana, "and every day an Our Father Hail Mary and Glory Be is for that intention, so that people are able to differentiate between true and false apparitions. But they are our brothers and sisters. I would never say that somebody lies. Many times we have had the chance to meet some of those so-called visionaries, and I knew that the person lied, but I never showed it from any gesture. I prayed for that person to be able to realize in his or her own mind that it is coming from Satan and that he or she is committing a big sin."
Has the Blessed Mother said anything about our priests?
"They need your prayers and your love. We have such great respect for our priests in Medjugorje. If a priest enters your house, no one will sit down before he sits down. Our task is not to judge whether he really represents Jesus or not. God will judge that. But at the same time God will judge us according to our attitude toward priests. We should go back to our parishes and show the people how much and how we should respect and love our priests. This is very important in this time we are living in."
We hear many prophecies. At Medjugorje, there is firm mention that we face major events, including chastisements. We asked: what about the prophecy of three days of darkness?
"That's not all true," said Mirjana. "To me it is just to frighten the people, to make them look for something that is not real. "
September 11?
Mirjana said that was not from God, but due to those who do not know the love of God, although she conceded that it was allowed by the Lord to happen, as would be the case with future chastisements. Is the Blessed Mother ever upset? "I never saw Our Lady angry or nervous," said Mirjana (although the Blessed Mother does weep, she says — and wept much during the most recent apparition, due to all the unbelievers in the world).
"She said to first pray for unbelievers, because many of the bad things in the world, wars and abortion, all of these things are coming from unbelievers. She said, 'If you pray for them you are praying for yourselves.' If only you could see the tears that Blessed Mary has on her face because of unbelievers, I'm sure you would pray with all your heart, because this is the time of decision."
When asked about the spiritual standing of the United States, Mirjana said the Blessed Mother "never mentions any specific country."
When asked if the current Pope is the last one, she responded, "Why would that be?"
As far as her secrets:
Often the Blessed Mother comes to discuss them with Mirjana — and to lighten the load. If this were not so, Mirjana has said, she would buckle under the pressure of knowing what she knows — world events that are coming, along with events affecting Medjugorje and the Church. Of all the six Medjugorje seers, indications are that Mirjana has among the weightiest of secrets, including events that will come as warnings to the world, followed by a great sign and chastisements. These, of course, the seer does not discuss. They are secrets. Even a woman, she jokes, can keep a secret.
She will inform a priest before the first one. "I have to tell him ten days before what will happen and where." She says there will then be seven days fasting and prayer and then "he will reveal that to the world– he does not have a choice whether to tell." Of a permanent sign prophesied to appear on Apparition Hill, she noted, "Everybody will be able to see that it's coming from God, that human hands could not make it."
Why secrets?
"It's God's will."
Of chastisements prophesied in her secrets, she said,  "It will be visible when it starts developing."
Mirjana said the Blessed Mother has instructed them not to talk about secrets but to pray. She emphasized that she could probably not reveal the secrets even if she wanted to. "If a person has Our Lady as a mother and God as a Father, that person has no fear," says Mirjana. "Our Lady says fear is only those who don't believe. Our job is to wait for that moment and pray."
[resources: Visions of the Children and Queen of the Cosmos]