---
Interesting it is that the oldest people in the news, for surviving the coronavirus, are dedicated Catholic women who pray the Rosary.
From The New York Times:
Ask Lucia DeClerck (of New Jersey) how she has lived to be 105, and she is quick with an answer. "Prayer. Prayer. Prayer," she offers. "One step at a time. No junk food."
But surviving the coronavirus, she said, also may have had something to do with another staple: the nine gin-soaked golden raisins she has eaten each morning for most of her life. "Fill a jar," she explained. "Nine raisins a day after it sits for nine days." A devout Catholic, Ms. DeClerck led rosary prayers each week at the nursing home and, before the pandemic, was a fixture at weekly Mass.
When she was diagnosed, said the home's administrator, "At first she was a little apprehensive, a little scared, but she said, 'God will protect me.'"
As The Times added: "Ms. DeClerck is not the oldest person to beat the virus. Europe's oldest known resident, Sister André, contracted the virus at 116 — becoming the oldest known person to have survived Covid-19. She celebrated with a glass of Champagne on her 117th birthday earlier this month at a nursing home in Toulon, a city in southeastern France."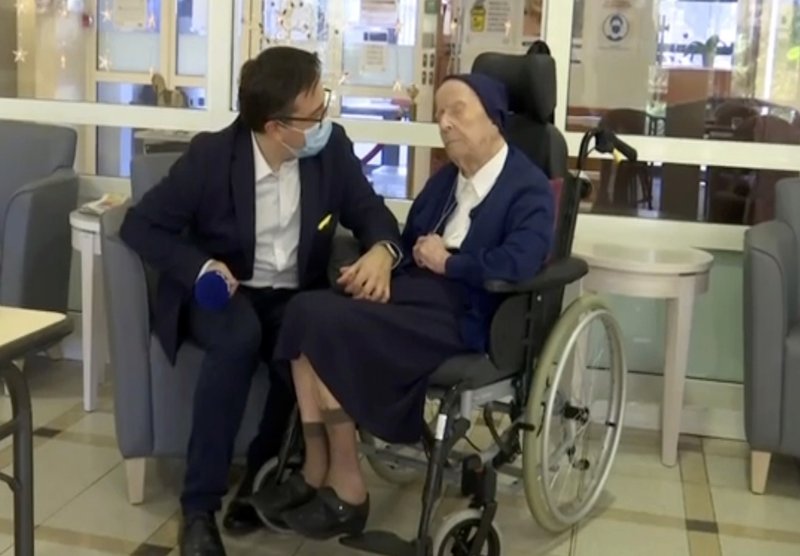 Hats off and bottoms up (and raisins raised) to both of them.
[Return to www.spiritdaily.com]