---
Call this a "world watch" — though this time a bit out of this world.
One speaks firstly and mainly of Jeff Bezos, an interesting person.
He is of course the founder of Amazon — the most successful retail venture in history (it recently passed Wal-Mart!) — as well as other companies that do everything from provide computers for the U.S. Defense Department (let that sink in) to — as the world was so well aware this week — blast rockets, including with Bezos aboard, into space (however briefly).
He is "worth," is Jeff, $205 billion (205,000 million), and that's after giving his former wife $40 billion in a divorce settlement. Together their wealth is more than the gross national product of Egypt.
Did anyone say charity? He has pledged ten billion to fighting climate change, and upon landing yesterday gave two activists $100 million each to spend as they will. But overall, we don't hear much about charity when it comes to Jeff (except for the ex-wife, and unfortunately her donations often go to contraceptive causes). The point: Should a person really be allowed to accrue that much in wealth (even if it's paper wealth)? Or is this the kind of excess that leads to socialism?
As the London Independent informs us, his wealth works out to $6.25 billion per month, $8.56 million an hour, and $142,667 per minute. It is quite a bit above minimum U.S. pay.
He could single-handedly take entire nations out of poverty, saving thousands of lives, which might be more worthwhile than blasting into space — though who is to ruin his joyride, and Jeff Bezos seems like a pleasant enough guy, at least in interviews this week. (Workers at Amazon and competing companies may have a starkly different view of his altruism.)
For years, many have wondered if Bezos is of this earth to begin with.
That is said (mainly; right?) tongue in cheek.
He does have a certain look about him — and was born in New Mexico (home to Roswell).
And he is a machine (when it comes to innovation)!
All kidding aside, his girlfriend also has eyes that… shall we say, draw attention.
One looks for the blot in one's own before analyzing another's.
But interesting?
A smite… otherworldly?
Let's say: piercing.
Different.
Both Jeff and his former wife MacKenzie were raised in Christian homes. Her parents, the Tuttles, are active at St. Edward's, a parish in Palm Beach, Florida. Her mom has even sat on a parish committee. Sadly, MacKenzie — the richest woman in the world — is now donating to some "female health" organizations that are anti-Catholic.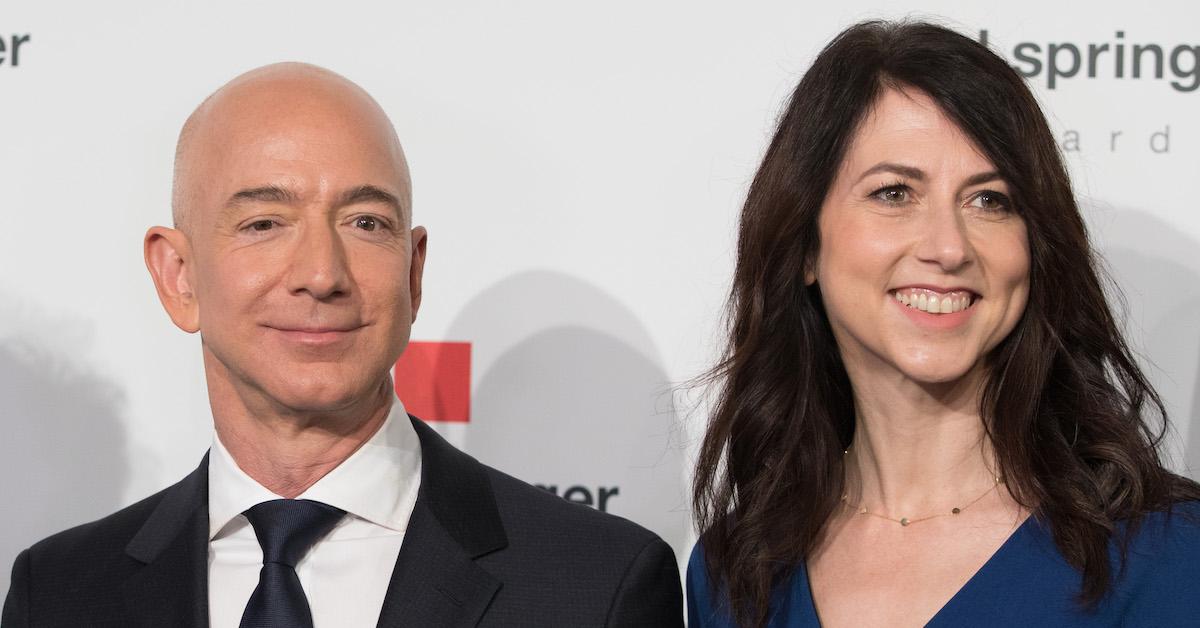 As for Jeff, his adoptive father, Miguel Bezos, was raised in the Roman Catholic Church but later married Jeff's mother Jacklyn Jorgensen in a Protestant church. It is thus not clear what if any religion Jeff was raised with.
Business Insider has reported that Jeff and MacKenzie's 1993 marriage certificate had the name "Rev. Richard Riccardi" as officiating their ceremony on Palm Beach Island. Riccardi was presiding "bishop" of the "Old Catholic Church of New Utrecht."
The Old Catholic Church is not under Rome. But does that make Bezos Catholic? And what about his adoptive father, who donated $12 million to a Catholic school in Delaware? (That was a Salesianum School in Wilmington, establishing a scholarship in memory of a priest, Father Byrne, who supervised the house for immigrant Cuban boys who attended Salesianum in the early 1960s. Miguel is an immigrant.)
"Maybe," says a cynical website, "like plenty of us who engage in late-night Amazon shopping sprees and then anxiously await our packages thanks to Amazon Prime's two-day shipping — Jeff really belongs to the Church of Amazon."
It can get nasty out there. Celebrities often have a hidden side. But to this extent?
+
That's also harsh. So have been the blogs that compared Bezos's Tuesday launch with scenes from the movie Austin Powers: The Spy Who Shagged Me.
"For those who don't remember, in the 1999 film, Dr. Evil's plan — which he dubbed 'The Alan Parsons Project' — is to take over the world using a giant 'laser' on the moon," notes The Wrap. "He intends to fire it at the White House, unless they pay him an obscene amount of money (which doesn't even actually exist at that point, since he's traveled back in time)."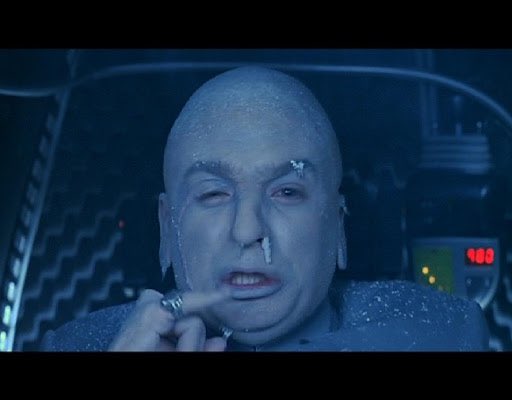 Other celebrities — and their "religion" — are not a big surprise.
Perhaps you remember the unusual rock-and-roller, Frank Zappa. Notes a recent article about him, "Back in 2016, large assets of his estate were put up for sale, including a collection of Crowleyana and occult books. The description for the lot up for auction reads as follows: "A collection of esoteric philosophy books previously owned by Frank and Gail Zappa, including Znuz is Znees: Memoirs of a Magician by C.F. Russell (self published, 1970); The Book of Wisdom or Folly, in the Form of an Epistle of 666 the Great and Wild Beast to His Son 777… by Aleister Crowley (West Point, CA: Thelema Publishing, 1962) with an inscription in blue ink to the prelim 'To Frank, I would be a slave to the slave, of your genius, neither tempting, nor restricting. You are, by far, the brightest star. No shadows shall remain'.
"The rousing list of spooky reams continues, Satanism in America by Shawn Carlson and Gerald Larue (El Cerrito, CA: Gaia Press, 1989) with a typed letter to Frank Zappa on Satanism in America letterhead, suggesting the book may be of use in Zappa's fight against music censorship, signed by the author; and Laments of Mulciber the Isagoge by Benjamin A. Franklin (Detroit: Society of the Isagoge, 1973) inscribed in black ink to the front endpaper 'To Frank, from Andrew Flame …the Lucifer.'"
This is equally out of this world, but dark stuff.
Wealth, power, and fame.
What a lure they are.
How they tempt us all.
How vacuous it will seem — including $205 billion — when one leaves the earth, this time not just for a few brief moments but eternity.
+