---
The mainstream media has no qualms any longer when it comes to reporting on or dramatizing the supernatural — fewer qualms than most mainstream Catholic outlets.
And much to report there has been and is.
Some samples: 
From the London Mail (caution, tabloid):
"A researcher studying an ancient Assyrian cuneiform tablet has made a terrifying discovery –an overlooked drawing of a demon believed to cause epilepsy. The 2,700-year-old clay tablet is inscribed with symbols that provide ancient medical treatments and although uncovered decades ago in Modern-day Iraq, a re-examination of the artifact uncovered the demonic being. The creature features horns, tails and a snake tongue and is the earliest illustration of a demon that can be associated with epilepsy in history."
Fascinating this is — since in Scripture, Jesus cured an epileptic by in fact casting off an evil spirit. It's in Luke 9: "Then on the following day, as they came down the hill-side, a great crowd met him. Suddenly a man from the crowd shouted out, 'Master, please come and look at my son! He's my only child, and without any warning some spirit gets hold of him and he calls out suddenly. Then it convulses him until he foams at the mouth, and only after a fearful struggle does it go away and leave him bruised all over. I begged your disciples to get rid of it, but they couldn't.'
"'You really are an unbelieving and difficult people,' replied Jesus. 'How long must I be with you, how long must I put up with you? Bring him here to me.'
"But even while the boy was on his way, the spirit hurled him to the ground in a dreadful convulsion. Then Jesus reprimanded the evil spirit, healed the lad and handed him back to his father. And everybody present was amazed at this demonstration of the power of God." As a Church, we need to get back to supernaturalism.
But not of the dark kind:
From the Atlantic: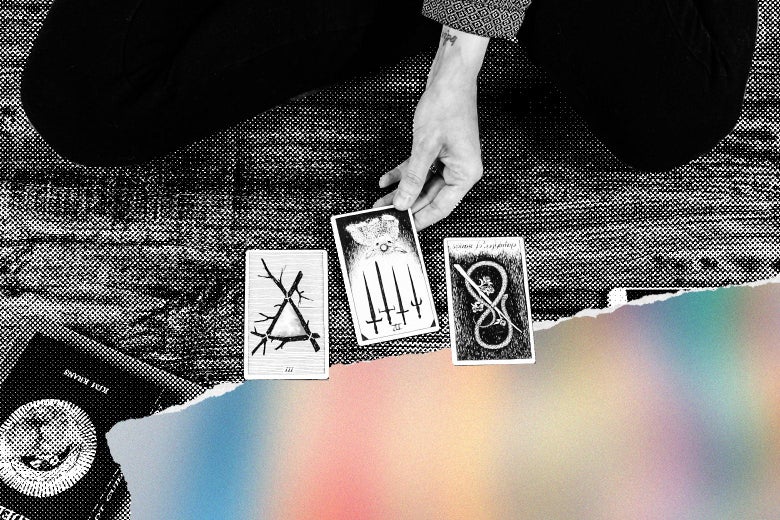 The demographic trends tell an incontrovertible story: The American Church is in decline. In 2018 and 2019, 65 percent of Americans identified as Christians—down 12 percent from the previous decade. While Christianity's numbers and influence are waning, other demographics are gaining ground; by 2051, if current trends continue, religiously unaffiliated Americans, so-called religious nones, could constitute as large a percentage of the population as Protestants.
Occultism is also on the rise. In 2014, the Pew Research Center found that 0.4 percent of Americans, or about 1 million to 1.5 million people, identify as Wicca or Pagan—potentially outnumbering the 1.4 million mainline members of the Presbyterian Church. By 2050, the number of practicing pagans in America is projected to triple to 6.6 million, or 1.5 percent of the population. 
To tell the story of the dramatic rise of neo-paganism in America, though, you quickly run into a roadblock. "No two pagans seem to agree on the same definition" of paganism, Iqbal Ahmed, who spent two years researching a large community of pagans in Southern California for his short documentary Pagans, told me. Because of this confusion, Ahmed said, "it's no wonder that relatively informed laypeople might have still have misconceptions about paganism."
From Salon:
Marlene Vargas and Alex Naranjo had been making a decent living in real estate when the economy collapsed. "We were devastated," Vargas said in an email recently. "Alex and I both gravitated towards more than just religion for answers and always felt connected to an esoteric practice." Coming from religious backgrounds, the couple wanted something to connect to that wasn't as austere. "This is when we found wellness, self-love and magic."
In 2010, the couple opened a "metaphysical shop" in Echo Park, Los Angeles, called the House of Intuition. One store turned into two, and then eight—a chain of metaphysical shops selling things like incense and candles and one location offering healing and reading services. "The past ten years have been unbelievable for us," said Vargas. "We never expected to be part of the movement to bring magic into the mainstream of wellness."
---
And so it is — on the rise, occultism.
As far as the supernatural in general, it's a hit from cable networks like the History Channel and Discovery to now CBS.
From the Cleveland Plain Dealer:
CBS has fully embraced "Evil." No, not evil as a concept, but "Evil," the super new supernatural drama that has emerged as the network's best rookie series. And it's a good thing — scary good, in fact.
Although not exactly a ratings juggernaut, the 10-11 p.m. Thursday horror show has been building a devoted following while steadily adding to its impressive stack of rave reviews. Recognizing the power of "Evil," CBS executives quickly demonstrated their faith by making it one of only two new fall starters already blessed with a second-season order (the other is Fox's animated comedy "Bless the Harts"). For the uninitiated, "Evil" is a series that stalks along the tricky line between science and religion. Katja Herbers plays Kristen Bouchard, a skeptical forensic psychologist hired by the Catholic Church to work with "priest-in-training" David Acosta (Mike Colter) and carpenter-contractor Ben Shakir (Aasif Mandvi) to investigate mysteries that could be supernatural — everything from supposed hauntings to miracles.
---
Perhaps it is also no coincidence that there have been curious slips-of-the-tongue.
From ABC10 San Diego:
Did a newspaper in Vancouver accidentally advertise that people could take pictures with Satan during a Christmas parade? Yes.
On November 21st, the Comox Valley Record printed an ad with an unfortunate typo. Instead of touting pictures with Santa, they accidentally wrote Satan.
And from WSB-TV Atlanta: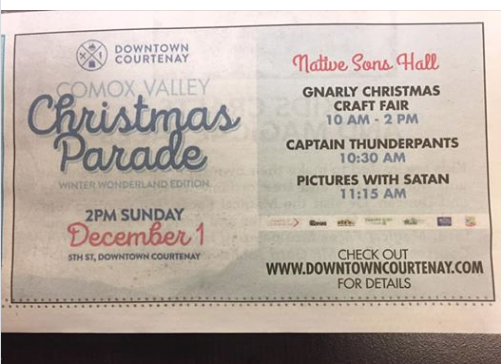 A newspaper advertisement for "pictures with Satan" generated a lot of buzz for the Sunday Christmas parade in Comox Valley, and a bit of embarrassment for the publication. "There is no excuse for it, and we aren't about to use this space to make any," The Comox Valley Record wrote in an apologetic editorial. "The same number of eyes proofed the ad as with anything that runs through the advertising and production departments. Somehow, this was missed, and for that, we sincerely apologize – to the clients affected, as well as to any readers offended by the mistake."
[Return to www.spiritdaily.com]