---
Perhaps, in this time when much of the Church has abdicated its responsibility for spiritual warfare, it is up to the laity to step forward, and if so, fellows like Jesse Romero show us the way.
Jesse, about whom we have written previously, is a retired Los Angeles sheriff's deputy, and in his book, The Devil in the City of Angels, which we highly recommend, are amazing accounts of up-close-and-personal encounters with the devil.
Anyone who doubts that Satan is behind much of our crime and mental illness needs to read this book (and also, in some cases, listen less to theologians than to exorcists; as Archbishop Fulton Sheen once said, the Church's real problem is that "our theologians have neglected the demonic" and "the demonic is always most powerful when he is denied… It is almost impossible today to find a theologian writing about the demonic, unless it be to deny it").
A sad state of affairs it is, when the head of the Jesuit Order states publicly, as happened recently, that the devil is a mere symbol, and when an auxiliary bishop on the West Coast — asked by an interviewer what he would do if confronted by an actual case of possession — said, "Call the police!" He was only half-kidding.
Obviously we have forgotten Mark 16:17: "These signs will accompany those who believe: in My Name they will drive out demons." It's how He said Christians would be known as Christians!
"One out of three theologians does not believe in the existence of Satan," wrote the famous exorcist of Rome, Father Gabriele Amorth. "Almost two out of three believe in his existence but not in the practical actions and refuse to take it into account in pastoral activity. The few exceptions are forced to act against the tide, and often are ridiculed and ostracized by the rest of the clergy."  No wonder the devil was able to enter our seminaries!
Call the police?
If so, make it former Deputy Jesse Romero. Call and ask him what he has seen — if, entering a home where a woman had just blown the head off her husband, and whose eyes turned totally white when they took her in the patrol car, her voice, growling and barking, now that of a demon (as she spoke to an unseen presence), if he found the devil to be just a symbol.
Or ask Jesse about the encounter in East Los Angeles when Romero and a partner responded to a family disturbance only to find four men struggling to hold down a teenage boy who had ripped apart the apartment with preternatural strength. This is an officer who has had more encounters with extraordinary possessions — truly amazing ones — than most exorcists.
"[The grandmother] invited us in, and what I saw caused me to rub my eyeballs," writes the former deputy, whom we interviewed a few weeks back. "There was a young teen on his back. He was being restrained by four adult men, who were each holding an arm and a leg, and he was growling like a dog, baring his teeth. His body was shaking violently, he was spitting, scratching, and biting, he had no pupil or iris, and his eyes were completely white. He was speaking a language that I didn't understand; it was not Spanish. In Spanish I told the men holding this teen, 'Sheriff's Department, let him go.' They let him go and his body remained in a supine position about twelve inches off the ground. My partner and I got down on the floor to see what was holding him up, and he was simply levitating in the air for a few seconds before the men pushed him down again. The grandmother told me in Spanish, 'Officer, he talks with the devil in his room every night.'"
In other cases, the irises disappear and the eyes are the opposite: completely black. Deputy Romero saw this especially among inmates in the Mentally Ill Offenders Unit.
Mentally ill — or possessed?
These mass murderers, psychopaths, serial killers (including the famous "Night Stalker"), and sociopaths were just about always immersed in satanism, the occult of some kind, and pornography, he says.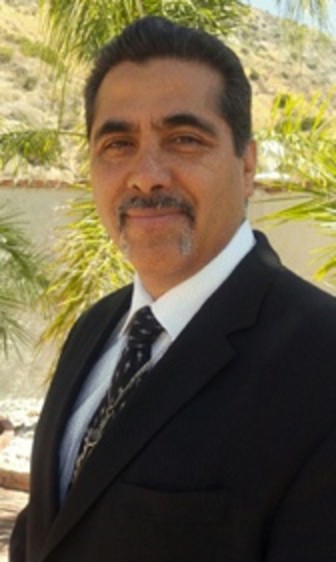 When Romero offered a nice dinner to one of them if he would say, "Jesus is Lord," the inmate tried with all his might but was not able to — so in the hold of the devil was this poor man, whose mouth struggled as if filled with cement.
Let's face it: while Christ directed His followers to cast out demons, our Church is at the point where so little attention is given to this that one survey of nearly 1,500 Catholics found just 17 percent of them believing in the devil as an actual supernatural interloper in the affairs of men — a living presence.
At one point recently, there were just sixty official exorcists in the United States.
So let us ask Romero. Bring him to your parish. Let us tap the knowledge this former officer (now a Catholic evangelist) who was himself thrown by a small possessed woman, despite his own size and strength (Romero was a champion kickboxer). Ask Romero about how a possessed person could slide down a bench without moving a muscle. Ask him about the feeling and stench of evil — and about his concerns that occult-oriented people are swarming over the border (many of the possessed he encountered were into Santeria or Santa Muerte).
The solution to the Church's crisis is very simple: to go back and restudy the Bible — this time, in the case of skeptics, with the belief it deserves.
[Ephesians 6:10-18: Finally, be strong in the Lord and in the strength of his might. Put on the whole armor of God, that you may be able to stand against the schemes of the devil. For we do not wrestle against flesh and blood, but against the rulers, against the authorities, against the cosmic powers over this present darkness, against the spiritual forces of evil in the heavenly places.
John 3: "…The Son of God appeared for this purpose, to destroy the works of the devil."
Luke 10:19  "Behold, I have given you authority to tread on serpents and scorpions, and over all the power of the enemy, and nothing shall hurt you."
John 14:12 "Truly, truly, I say to you, whoever believes in me will also do the works that I do; and greater works than these will he do, because I am going to the Father."
Luke 9:1 "And he called the twelve together and gave them power and authority over all demons and to cure diseases."]
[resources: The Devil in the City of Angels]
[Feedback on article about Mayor Pete: "Dear Mr Brown, a very well written article. You should also know that Mayor Pete, for most of his life, attended Catholic schools. He has apostated from the  Catholic Church and joined the schismatic protestant Episcopal 'church' which does accept all things gay. One of the fathers of the Church said ,that when the demonic spirits succeed in convincing two men to commit the act the sodomy, unlike other sins, they cannot watch, since as angelic spirits  such acts are abhorrent to their nature. Something, Mayor Pete should know. God Bless you. Fr David G. Taurasi Diocese of Corpus Christi, Texas]