---
In Cecil, Maryland, a mile from the exit for the town of Elkton, stands a towering statue of Mary known as Our Lady of the Highways.
It was erected in 1973 by the Oblates of St. Francis de Sales at their novitiate along the roadway, commemorating a deadly traffic incident several years before, one that involved twenty vehicles, many of them tractor-trailers that piled-up in dense pre-dawn fog. 
Hearing crash after crash, seminarians, brothers, and priests who were starting their morning routine had rushed toward the Interstate. The first outside aid to reach victims, they tended the injured and dying while waiting for emergency crews to make their way through the darkness. 
Several of the crumpled cars were smashed between tractor-trailers. Three people died that morning of October 2, 1968.
Moved by the sad tragedy that took place that unforgettable autumn day, the Oblates erected the shrine. Truckers refer to her as the "Stone Lady." Fourteen feet of marble. In addition to serving as a memorial for the three victims, the "patron of travelers" reminds people to say a prayer before heading out in our cars and to drive safely — preferably, continuing to pray behind the wheel as we take to the increasingly busy highways…
Driving up the coast, I've seen "Our Lady of the Highways" a number of times. And I find her presence there interesting on another account — due to a different tragedy.
It was in 1979 that I stumbled upon a horrific situation there in Elkton a stone's throw away from where Mary stands guard — where she now intercedes and warns.
This one involved no cars and trucks but children who seemed to have been sickened by toxic chemicals.
I was investigating such situations across the United States, and this was one of the most dramatic.
The problem was a small solvent factory in Little Elk Valley emitting fumes that clung close to the ground — apparently like that fog in 1968 had.
Perhaps there was something meteorological about the area. Perhaps it was a spiritual stronghold. Whatever the case, I vividly recall knocking on the first door of the first home I spotted, partway up one of the hills, a home that belonged to a woman named Dorothy Logan and her husband, John.
The living room was small, a comfortable room the Logans had paneled and decorated with religious images, among which, on the color television, was one of the Virgin. As I recall, there were also votive candles.
At the opposite side of the room — hung prominently in the middle of the wall — was a striking painting of a little girl four or five years old, with blond hair and a pensive expression, sitting in a wicker chair with a glass of milk in her hand. It was set off by a dark background.
As it happened, a decade before, in the burned-out shell of an old paper mill at the bottom of the valley less than a mile from the Logan home a chemical company quietly began the business of reclaiming waste solvents from companies along the East Coast. There were pits and lagoons, so the wastes could vaporize.
They vaporized into that murky, stagnant air near I-95.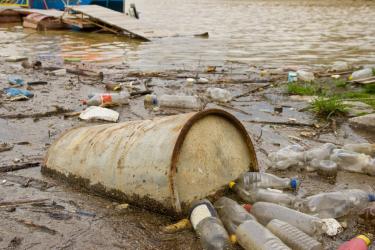 Residents complained of the ethereal odors.
"Oh," Mrs. Logan told me, "it was so strong at times. It smelled like everything from a strong tomcat to vomit to gosh-darn rotten eggs. We felt it shouldn't be allowed!"
She was once hospitalized for a week due to vomiting and associated it with the plant.
Doctors told her it was just her nerves.
Others complained of headaches, nausea, chest pains, dizziness, and other ailments they had not been afflicted with before.
A yellow, greenish smog sometimes appeared under the glow of street lights.
The Logans' daughters also took ill. Mrs. Logan had taken a deep breath and explained to me that one of her daughters, Diana, was the girl in that painting.
"I tried to protect her," said Mrs.Logan. "I kept her in the house, shut up, and even bought an air conditioner. I didn't let her play in the yard. She was so sad. She would put her nose to the window and look out at the yard."
Then Mrs. Logan informed me that at 5:40 a.m. on November 17, 1968, Diana "went to sleep" as she lay in the hospital on a mattress filled with icewater in a futile attempt to bring her temperature down.
She was five years old and had Down Syndrome and was the victim of leukemia — a blood cancer caused precisely by chemical solvents like those handled by the recycling company.
She lost hair; she had sores. When they went to give her a transfusion, they couldn't find a vein.
After she died, Mrs. Logan did not specifically cite the chemicals; Down is known to increase the chance for this illness.
But there was another case of childhood leukemia in the neighborhood, and other residents had been hospitalized for the same issues that had afflicted Dorothy.
A full drama ensued when a medical doctor and pathologist from Italy, Dr. Pietro U. Capurro, who directed the lab at Lincoln Hospital seven miles away — and was not indoctrinated, as American physicians seemed to be, by the chemical business — learned of the situation and did what any doctor should: began taking blood samples from the residents to see if there were chemicals present.
There were — and at allegedly very high, potentially destructive levels.
One kid had taken ill after swimming in what once was a trout stream but was now badly polluted by a witch's brew of synthetic compounds.
Nine solvents were identified in blood samples.
Dr. Capurro tabulated incidences of leukemia at fifty times the normal rate, and ditto for pancreatic cancer and malignant lymphomas.
For his efforts, the doctor was mercilessly harassed — his mailbox destroyed seven times, a tire on his Camaro slashed, chemicals thrown on his front lawn. He felt the need to buy a rifle. One night there were shots outside his home. The company sued him for $2.5 million. Years of legal nightmares. In the end, the chemical company was allowed to remain. An editor at The New York Times Magazine wanted to write a screenplay with me about this drama.
I saw this in case after case across America: kids sick, companies denying culpability, government unresponsive, or swayed by industry. Not to mention what goes on in nations like China.
I wrote about it in a book called Laying Waste: The Poisoning of America by Toxic Chemicals," and myself experienced a fair share of harassment and threats. One company sicced the nation's most famous libel attorney, Louis Nizer, on my publisher.
But I never forgot the Logans. I never forgot Elkton, along that highway. I didn't notice Mary back then, but she was there, perhaps directing the investigation, as now she guards motorists, as now she prevents further accidents.
This isn't about Greenpeace. This isn't about hugging trees. This is not a Republican or Democratic issue, conservative or liberal, capitalism versus socialism.
This is about God's Creation. It is about human life. This is about real people — kids — who suffered and still do, as well as the unborn. (Many places report miscarriages, making it a pro-life issue, though one that is not yet, as such, appreciated.) Please remember this when you hear of regulations on such compounds being dismantled for the sake of the economy.
Is it a "sexy"story? Is it entertaining? Will it get "likes" on Facebook?
It is simply important — critical, especially in these times when so many discount protection of the environment (because the issue has been hijacked by liberals and New Agers, and because it is fashionable, in conservative circles, to disregard anything to do with ecology).
It is not a New Age issue. It is not a liberal one. It is in fact a conservative matter because it involves conserving nature — Creation — and human life.
Perhaps the Mother of God — our mother — is standing there for more than just highway safety, staving off more than one kind of evil, there so close to a once idyllic valley where I have a feeling many more died from pollution than in that famous car pile-up so long ago now, in what once was a lonely, lovely, life-giving valley.
–Michael H. Brown