---
Years ago, we published a novel called The Seven with some interesting passages, one of which is below.
The novel's plot: an evil entity that through the ages manifested in various guises and was currently mayor of a small Uptown New York town, preparing to unleash animals with deadly viruses, bacteria, and bioengineered DNA into the open environment, an event that would cause a global calamity.
The main characters were a cop named Renford, his wife Linda, and an old mystical priest name Padre Leo, who was assisting them in confronting the evil personage just as he was ready of set free contaminated insects and birds and other animals from a former U.S. government weapons depot as a storm raged.
An excerpt:
Thunder returned. Leo could feel a drop in barometric pressure. His knees throbbed with pain as he united himself with Christ carrying the cross. It was his only energy—that and the Rosary, which was constant. There was now the feeling of imminence. The reprieve was ending. The main thrust of the storm approached. Soon, he knew, things would not be quite so quiet. They snuck past the cellars and then two bulldozers as more thunder rumbled. "For many centuries he has returned here," said Leo cryptically in his low baritone as the wind once more gusted around them. They listened as he intoned a prayer. He had raised the hood of his habit so that it all but covered his dripping face and fingered the large wooden rosary that hung from his side with one hand as he held onto his flapping poncho with the other. His face remained firm, very rough, his brows and nose and cheeks sturdy, the austere visage testifying to a life of fasts, immolation, skin pouched with tension under the eyes. When Renford spoke, Leo's face was plaited with concentration and he cocked his head as if in a confessional.
Suddenly, Linda screamed.
"I saw something," she said in a frantic whisper as Renford ran to her side. "Something moved in the woods. I'm sure it was something." Renford cocked his head and heard a sound he attributed to a raccoon. Nothing. He hugged her for a minute, then turned and scanned a large building that flanked the cellars and looked like a warehouse. There were several mesh windows.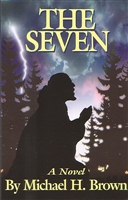 They looked relatively new. None were broken. None were sullied. Renford nosed up to the first, aimed his light, and saw that this structure indeed was not abandoned. It was enormous inside. The roof was intact. So were the walls. As he pointed his light to the floor, Renford spotted trough after trough filled with water—rippling with activity. One was the length of an Olympic pool. Bubbles gurgled up. There was the hum of a generator.
As Linda and Leo found shelter under the eave he trained the light and saw what looked like schools of minnows, mullet, and shiners, so dense they caused undulations at the surface. In all there were half a dozen troughs holding thousands of gallons of water as well as several that were circular. Renford moved from window to window. In one were what appeared to be guppies, perhaps young trout. In another, tadpoles. In a third, what looked like eels—masses of them.
Obviously, the animals could quickly disperse a virus in the wild, ranging as they would toward the bottom of the food chain, apparently not succumbing themselves to the DNA, at least not immediately. It was what Yearlson had warned about. The warehouse was one in a cluster and next to it was a structure of roughly equal size and the sight that met his eyes at the window was astounding. The building was filled with maggots. White writhing worms. Millions of fly larvae, caterpillars, maybe mosquito larvae. They were in compartments—old TNT cells.
In the adjacent compartment, worms squirmed in what looked like balls of woven spaghetti. Again Renford got a closer look by moving to another window. Most of the worms were large night crawlers, but they varied in size and Renford spotted a number that seemed to hop as with hind legs like what he had seen at the McGinnitys. There was no calculating the number. Cocoons hung on makeshift branches. Row after row. There were sprays overhead from which water—or a synthetic liquid—could douse them.
On the floor near the fourth window Renford spotted what looked like a pool of blood—perhaps cow blood—with millions of black specks moving in it. Lice? On the window was one with four legs and two pincers: lice, but with tiny wings. He also saw larger, darker, round-shaped insects that looked like ticks feeding, too, off the serum—and also with wings, even though he knew that ticks did not have wings.
There was no fathoming the number. On the edge of a window were mammoth butterflies that seemed to move with incredible speed—disappearing from his light almost instantly. Beetles. Moths. Grubs. It was a greenhouse for insects. Tiny grasshoppers jumped to extraordinary heights. Locusts. It was like they were trying to attack the window. A cloud of wasps swarmed in the corner, while other bugs massed on the floor covering it as lightning offered more frequent and potent illumination.
On the other side were more bugs, a mass of them, some tiny midges, others huge dragonflies, buzzing in hordes from one sip tray to another. A large swarm kited toward the ceiling, roosting as another took its place below, the entire structure abuzz with flying and crawling and burrowing insects of all sizes. Some were in gossamer net cages. There were many fava plants— perhaps a food source or breeding territory. At the top was a strange funnel-like hole that was closed but looked like it could be used to release the insects and around it was an array of spray nozzles which hosed down to canisters on the concrete floor. Near the window, Renford could see more of the smaller insects that were transparent—what Yearlson had warned of. All awaited a grand release. "Oh gosh!" screamed Linda suddenly. "Look!"
Renford turned from the window and shot his look to where Linda was indicating—a puddle of flesh and fur that had been a deer twenty feet from the building with the fish. He couldn't tell if something had leaked or the animal had been killed in passing in another trial run. He only knew that it was hot—full of DNA. Yearlson said a dead mammal was like a factory for viral multiplication.
"We've got to find the DNA before he treats these animals!" said Renford. "We've got to destroy it." "It looks like it melted!" said Linda, covering her mouth. "Step back," he warned in the clatter of rain, glad the wind was gusting in the opposite direction. "Don't inhale anywhere near it. It could be a retrovirus. It might have been engineered to go airborne."
[Excerpted from The Seven, by Michael H. Brown, available here]
---
We all like stories of the inexplicable and miraculous, and when it came to that, the late Father Joseph Whalen of St. James Church in Danielson, Connecticut, was not so much a font as a geyser. Ordained at the age of sixty-six, the miraculous followed him everywhere. His amazing story is below this article.
And though he died four years ago, the miracles have persisted.
He used to blessed oil (with the patronage of Saint Raphael) by the hundreds of gallons, and many reported effects with it. It is still available. It has been sent to more than a hundred countries.
At any rate, his loyal assistant, Mary Ann Wichmann of Vermont, reminds us of one such happening around Father Whalen.
"Do you remember Bill Baril?" she asked in a recent note. "He came with Father Joe to bless your house in Latham New York, many years ago. He passed on this past January. He had been a bad alcoholic and was sitting on a park bench in the early 90's at his lowest point, asking God for a sign one cold winter day.+
"All of a sudden there was a gust of wind and a crumpled up newspaper blew across the snowy park and stopped at his feet. He picked it up and uncrumpled it and it had an advertisement for a pilgrimage to Medjugorje with Father Joe Whalen (a recovered alcoholic). He took it as a sign called Father Joe and the rest was history! He went on the pilgrimage, made a full conversion back to his faith, and Father Joe became his sponsor and spiritual director. He worked very hard for many years for Our Lord and Our Lady [alongside Father Whalen in the until ministry] until he died of cancer this year. The following is his prayer that I have posted on our website in his honor."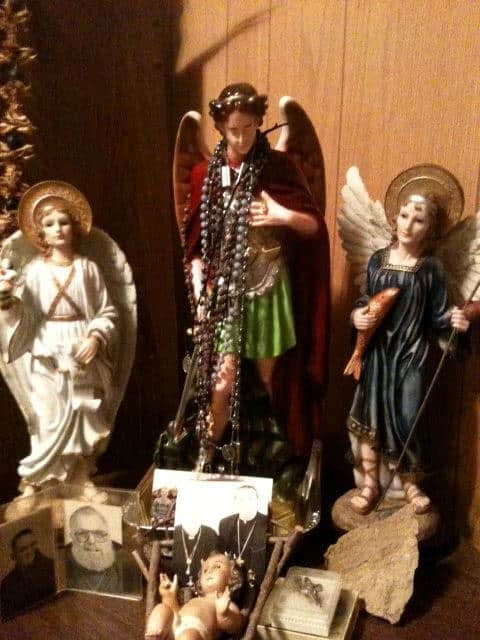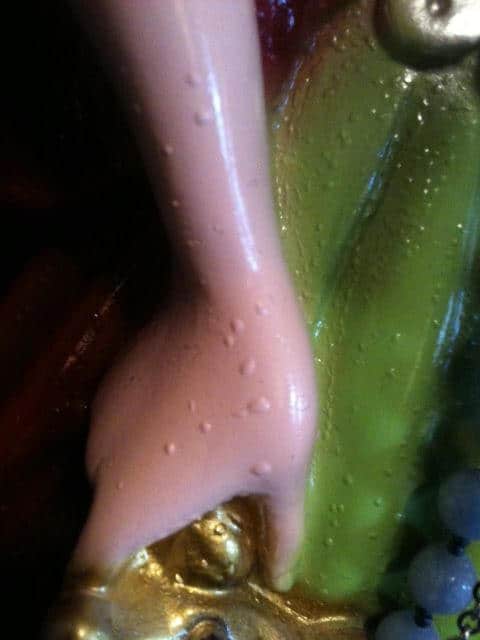 According to Bill, who lived in Wakefield, Massachusetts, the priest blessed 300 five-gallon jugs of oil a year, each of them touched by the priest; the oil was then put into smaller, many of them half-ounce bottles (100,000 to 200,000). It took a crew of twenty-five volunteers to make the oil (which was heated and contained crushed rose petals) as the prayers were recited and the entire Book of Tobit read. (Blessing bottles en masse was first suggested by Father Whalen's bishop.)

Mary Ann once related how oil was found exuding from a statue of the Archangel Michael in father's office. "Just a side note," she had said at the time. "I was cleaning Fr. Joe's office yesterday and got to the table with his statue of St. Michael (about 24 inches high, between Saint Gabriel and Saint Raphael and I placed my hands on either side of him to lift him up and move him so I could dust the table and my hands became covered with oil! The statue is exuding oil and a lot of it. I had to put him in a tray to catch the overflow. Father Joe and Father John say that oil has always been a sign of healing in the Bible but it is also a sign and consolation for us that He is with us and helping us, especially now."
Born in Quincy, Massachusetts, he had been married and divorced before the priesthood (he presided over the wedding of his children and at his former wife's funeral). Father's two credo were "how God writes straight with crooked lines" and "it's never too late to live."
(Blessed oil is still available here)
——————-
From elsewhere in the mail:
"True Story: The phone rang at 1:00am in the home of Leo Winters, a brilliant Chicago surgeon. It was the hospital telling him that a young boy had been tragically mangled in a car accident. Dr. Winter's hands were probably the only ones in the city skilled enough to save that boy's life. He got on his clothes, jumped into his car and decided the quickest route to the hospital would be to drive through a dangerous neighborhood, but since time was critical, he decided to take the risk. He came to a stoplight and when he did, a man in a gray hat and a dirty flannel shirt, opened the door, pulled him out of his seat and screamed, "Give me your car!" The doctor tried to explain that he was on an emergency call, but the thief refused to listen. He threw the doctor out of the car, jumped in and sped off. This doctor wandered for more than 45 minutes looking for a phone so he could call a taxi. When he finally got to the hospital, more than an hour had passed.
"He ran through the hospital doors, up the stairs, to the nurse's station. The nurse on duty looked at him and shook her head and said, "Doctor I am sorry, but you are too late. The boy died about 30 minutes ago. His father is in the chapel if you want to see him. He is awfully upset, because he couldn't understand why you didn't come to help." Doctor Winters walked hurriedly down the hall-way and entered into that chapel. Weeping at the altar
was a man dressed in a dirty flannel shirt and gray hat, whose eyes were blinded by tears. The boy's father looked up at the doctor in horror and realized his tragic mistake. He had foolishly pushed away the only man in that city who could have saved his son. (Kent Crockett, Making The Day Count For Eternity, pp. 27-28.) There is only one person that can save your soul. When you exit this life, at the moment you die, you will enter into eter-nity. If you intend to go to Heaven, you had better make sure you take the one Way."
[Footnotes:
Our Father Whalen story (Michael H. Brown): 
Ten years ago my wife and I were in Medjugorje and heard an extraordinary sermon by a luminous, white-bearded, almost St. Nicholas-like priest who was with a group from Chicago and was up there in the pulpit telling a riveting story. It was about a man who had risen from the despair of alcoholism to become a priest — at the age of 66! It was a story about a fantastically successful late vocation.
At the end of the sermon, this priest, this homilist, shocked everyone by explaining that he was the man he was talking about, the alcoholic. He was the one who had risen from the pits. He was the late vocation. We didn't get his name at the time — weren't even sure exactly what city he was from — but the homily was unforgettable.
Months later, back in New York State, we were trying to find a priest to bless the apartment in which we were living when we first married. It was awkward. It was a new city, and we didn't know any priests to approach. These days, it is an odd request. Some priests have not even been trained to do so. And we really wanted that. We had even asked folks to help us find the right priest but still had no luck when the phone rang one day, the feast of Corpus Christi. It was a priest from Connecticut who identified himself as Father Joseph Whalen. I had never heard of him before. He said that someone at my publisher's told him to call. They knew I was doing research on angels and he was sort of an expert on the Archangel Raphael.
That was his ministry, he told me; he distributed specially anointed healing oil and St. Raphael cards that many claimed caused miraculous effects.
He was going to be in the area that day, he told me. Would I mind if he stopped in?
By all means, I said. But first I had to go to Mass. It was a feast day.
Don't bother, he told me; he would say Mass in our apartment. He would bless it. Finally we had a priest to anoint our apartment!
Later that day, when Father Whalen and two companions arrived, I opened the door only to find that he was the same priest we had seen at Medjugorje — the one who had been with the pilgrim group and had given that tremendous homily!
Out of the 27,000 active parish priests in the United States, and more than 160 in our own little diocese, here he was at our door.
As I was soon to learn, it was only the beginning of extraordinary events that regularly occur around him. His story? Father Whalen was born July 14, 1923, in Quincy, Massachusetts, the oldest of seven boys. His uncle was a bishop who wanted him to be a priest. He wanted nothing to do with it. As a teenager he worked as a clam-digger — and started drinking whiskey with the men. After graduating from high school, he served in the Navy on a submarine chaser, hunting German subs. And drinking more. By this time he was developing shakes and even blackouts. "Many nights I staggered back on board the ship with my clothes ripped or a shoe missing," he recounts. "Countless nights in nameless ports around the world, I woke up in filthy, alcohol-stained clothes — too drunk to care where or how I slept."
You get the point. He had turned into an alcoholic at a young age and it grew. After a year in the maritime service, Whalen was hired by the New England Telephone Company as a office equipment installer. By this time he was also married to a woman named Frances and they had children. Over the next 32 years he worked his way up to second-level management.
But there was constantly the alcohol, and it would end his marriage. "Frances was always running interference and apologizing for my stinking behavior," he now recalls of his former wife, who died a while back. "I would slur my words and stagger around yelling at everyone who crossed my path. My filthy and obnoxious behavior sent everyone into hiding."
Finally Frances dragged Whalen into court, where their marriage ended in a bitter divorce.
"I was loaded with guilt and remorse for my lifestyle and for my terrible behavior toward my wife and children. My soul was so stained, my actions so depraved, that I prayed to get cancer and die."
Desperate for help, Whalen went to a Franciscan shrine to see a priest named Father Henry Lawler, who took him to his first Alcoholics Anonymous meeting. The day he met Father Lawler was the last day that Joe Whalen had a drink.
The priest also heard the future priest's Confession (his first in 15 years) and told him to go to church and speak to Jesus.
"I did," remembers Father Whalen. "I fell on my knees and surrendered to Him, as best I could. That's when I started to go back to church."
And that's when things began to happen. Whalen, not yet a priest, became fascinated by angels, developing a special devotion to Raphael and the Book of Tobit. He read the Bible cover to cover. He read Thomas Aquinas. Along the way, he met a mystical, cloistered nun named Sister Mary Michael of the Precious Blood Monastery in Manchester, New Hampshire.
"At our first meeting, sister looked deeply into my glazed, alcoholic eyes and said softly, 'Joseph, I see you as a priest.' Tears began to stream down my face. 'What do you mean? You must be kidding!' I was bawling my eyes out as I remembered the uncle who once spoke to me about becoming a priest." Sister Mary Michael said she could see Jesus pardoning Whalen's sins and opening the skies to let his mother, who always wanted one of her sons to be a priest, peeking down at his ordination. He knew then that he had a calling.
All he could think of was how unworthy he was. But she kept saying, "Don't talk like that," and shortly after, in 1983, Whalen began receiving visions. "After prayers, with my eyes closed but before going to sleep, I would first see pinpoints of light, then whole fields of brilliant bluish light, pulsating like a kaleidoscope. Then the visions would disappear. The visions continued every night for seven months. Sometimes I would see Jesus suspended from the Cross, one heart with two circlets of thorns around it, or two hearts with thorns around them. Many times I would see a big white dove heading toward me as the field of vision became an intense blue-white. In the last vision I saw two angels suspended with their wings fluttering and a dove gliding toward them."
To make a long story short: Joe Whalen entered a seminary and became a priest. His marriage was officially annulled because of the alcoholism that had predated it and he spent four years in graduate studies at Pope John XXIII National Seminary in Weston, Massachusetts — where he was the only one in a class of 19 who was a divorced alcoholic with only a high school education! He was ordained on January 28, 1989, and at the age of 80 is a very active priest — even traveling nationally. A more uplifting, devout priest you will not find. He is a ringing testimony to the value of late vocations, a clarion call for the Church to pay close attention to those who may heed a call late in life at this time when priests are in such short supply.
The prayer cards? They show Raphael (below) appearing to Tobiah and have a special prayer requesting the great angel's intercession. Nearly ten years ago Father Whalen already had gathered the written testimonies of eighty people who claimed relief or outright healing from seizures, leukemia, heart problems, and cancerous tumors. No one knows what the count is now. "I just can't tell you how wonderful it is to experience the prayer power and miraculous workings of the St. Raphael prayer card," wrote a woman named Ginny. "And day by day I have felt the lump disappearing. My doctor tells me I am one of those people who they cannot explain but I am very much aware of what has happened through faith in St. Raphael."
"I was diagnosed with leukemia found in my blood tests," wrote another. "I had been sick for some time until my wife obtained a St. Raphael card from a friend who told us to pray for healing. My family began to pray, and when I went back for more blood tests, the leukemia was gone!" Claimed a woman identified only as Mildred: "My 15-year-old grand-daughter, Laurie, had cancerous lumps all over her body. They all disappeared. Now she has only scars. Her cancer is in remission."
Naturally, we can't verify all these claims. There are more. There are accounts of healing for lesser problems also. There are calcium deposits that have gone, there are habits that have been kicked, there are emotions — like Father Whalen's own — that have been repaired. This is a man of faith, a man who prays for 12 hours over vats of holy oil, a man who was praying on a stormy day at a St. Pio shrine in Barto, Pennsylvania, recently when, according to one witness, the clouds suddenly parted (see below) and a ray of sun illuminated the luminous priest!
They swear the clouds formed an image of Padre Pio.
Ah, yes, Father Joe Whalen — now at St. James Church in Danielson, Connecticut. He dispenses healing oil and the special St. Raphael prayer cards everywhere he goes as a Missionary of LaSalette, which is celebrated September 19.
One heckuva a priest — the one God sent to bless our apartment when there was no one else, the one who presided over his former wife's funeral, and has baptized five of his grandchildren. The drop-down drunk who is now a hero to his children.
And to us.
"God does draw with crooked lines, you know that," says the priest, who stopped in on us again last week. As for his calling: he urges the Church to promote late vocations at this time of crisis and still thinks of that nun who has been cloistered for more than fifty years now and with whom he remains in touch.
"When I visited Sister Mary Michael again, she said, 'Joseph, I am convinced that your mother got a glimpse of your ordination," recalls the priest. "Jesus surely parted the skies to allow her to look down from Heaven and see the fulfillment of her prayers."+
[Prayer to St. Raphael "For Help and Protection against Pestilence"
+
"Holy St. Raphael allow this healing balm, healing oil that was blessed in Heaven to flow through my  entire body and touch every organ and heal me of any known and unknown ailments, then + bless yourself with the oil +, St. Raphael protect us from any diseases, plagues, chastisements, flus coming upon the earth. Amen.
(You can also place a cross of the oil, above your doorposts and windows. It is used as a healing balm and/or a protection against evil and pestilence.)"]
———-
---
[adapted from Lying Wonders, Strangest Things]
It's said one of Elvis Presley's experiences with strange occult lights (he had a good many) took place en route by car from Memphis to Las Vegas when, as he crossed New Mexico, in the late 1960s, Presley claimed he and two companions, Jerry Schilling and Larry Geller, watched a saucer cross the night sky in a huge arc, growing larger and more brilliant until it cut a sudden ninety-degree turn and slung itself into the unobservable distance. We don't have a fix on what city they were near. We do know that afterwards, Presley took to reading the Book of Ezekiel. We also know the highway he was on: Route 66.
Therein lies the mystery—or better said, mysteries (plural).
For as it crosses New Mexico, Route 66 passes through a nondescript town called Gallup, where a branch of the highway veers north and, because it's the sixth "leg," was officially designated "Route 666"—a road bedeviled not only by its ominous numbers but the lore (some would say, the curse) that went along with it.
The highway was in the news for the past two weeks because New Mexico Governor Lujan Grisham, in what she called a "drastic" move, invoked the state's Riot Control Act to slow the spread of coronavirus and sealed off the roads into and out of the hard-hit city of Gallup. Old Route 666 (along with Route 66) are major thoroughfares there.
It is the only U.S. town cut off from the world in such a fashion. Said Associated Press: Like clockwork, payday arrives and tens of thousands of people from the Navajo reservation and other rural stretches along the New Mexico-Arizona border flood into Gallup, a freewheeling desert oasis of just 22,000 that can quickly quadruple in size with all the visitors. Not now. As the modern-day trading post reels under a coronavirus outbreak that has infected more than 1,450 people and killed at least three dozen in the city and surrounding rural county — overrunning a patchwork health care system — Gallup has gone into extreme lockdown. Barricades are manned by state police and the National Guard, keeping out anyone who doesn't live there or face an emergency."
No joy ride, this: travelers suffered more than the expected number of accidents or breakdowns—especially unexplained electrical disruptions and encounters of the phantasmagoric kind. Some called it "Satan's Speedway" and with grim recollection (and straight faces) reported everything from apparitional hitch-hikers and a phantom truck to a pack of vicious dogs that somehow could keep up with any vehicle and glowered with luminous eyes. Did the juxtaposition inflame imaginations? According to researcher Dr. Avery Teicher of Phoenix, several of the accounts were well documented.
One involved unworldly canines that chased a group of motorcyclists, two of whom were badly mauled, medical records show. Others insisted they saw a woman in white hitchhiking along the side of the route or even standing in the center of the pavement before vanishing. And then there is the black sedan—some say a 1930s-era Pierce-Arrow roadster that roared alongside in a most threatening manner. As the sun sets, flickering headlights were and perhaps still are spotted, moving inexorably closer. Some say the sedan has bumped into them or, honking angrily, has forced them off the road. When folks try to see who's driving, what they observe are only darkened windows—or suddenly, no car at all . . .
"This astonished me because in July 1993, while visiting Lewiston, New York, my wife and I spotted a shiny black Lincoln all but blocking our access to the parking lot of a restaurant. From a block away—somehow—we could see the driver: stocky, with a round austere face, not friendly at all, the interior of the car swathed in an unusual reddish glow. When, peeved, I squeezed past and pulled up behind it, the license—as if to mock us—was "666." The car then pulled out of the entrance onto the street and out of sight. . .  Another who has written of the route in New Mexico, author Linda Dunning, said on one drive near Gallup (a one-stoplight-type town composed mainly, on the route, by gas stations, diners, and motels), her husband encountered a phantasmal semi that "looked like it was on fire heading straight for him, right down the middle of the highway. It was going so fast that sparks were flying up off the wheels and flames from the smokestack. He pulled over and got out of his car and walked way off the road into the desert till the truck passed him going what he estimated was a hundred and thirty miles an hour." "Walked"? (Rather hurriedly, one imagines.)
Meanwhile, the sprawling Navajo Reservation it borders is known for the gamut of alleged preternatural happenings — so many that a ranger was assigned full-time (along with a partner) to investigate them. (We interviewed him.)
Some of the accidents—if not all—can be rationalized. Route 666 had four hundred curves in one stretch of just sixty miles—ascending and descending steep, dangerous highlands. In 2002 a female driver suffered a heart attack and drove head-on into a speeding truck, injuring a baby and costing four others their lives. Once known as the Old Mexico Trail, Route 66 coursed not only across the sweeping deserts of New Mexico but also the bony western spur of Colorado and into Utah, slicing through a huge Indian Reservation and a towering natural monument called Shiprock. . . which Navajos believed was magical and gave roost to flesh-eating bird-monsters . . .  More modern accounts tell the tale of folks who, encountering car trouble, have walked along the ominous trail, only to disappear with no trace—in some cases, leaving their vehicles behind, in other cases, their cars disappearing with them. In still other cases, people have vanished for hours or days. When they resurface, they experience what is known as "missing time": unable to recall where they went and how long they were gone. In Utah, north of where 666 ended, and along Route 66, similar phenomena (bigfoot, UFOs, and crop circles) are reported at Skinwalker Ranch— land that was under study by the same billionaire who funded the Nevada institute studying mutilations; for there were mutilations here also. I found the same upon journeying on a similar aggregation of bizarre occurrences called Clinton Road in West Milford, New Jersey: accounts of a preternatural pickup, roadside apparitions, ineffable creatures, and the omnipresent aerial lights and crop circles. Old ritual grounds, they said. There had been covens. And Masonic meetings. The Mafia (this is Sopranos territory) supposedly dumped bodies there. In New Mexico, fears were assuaged when the U.S Department of Transportation renumbered the road in 2003.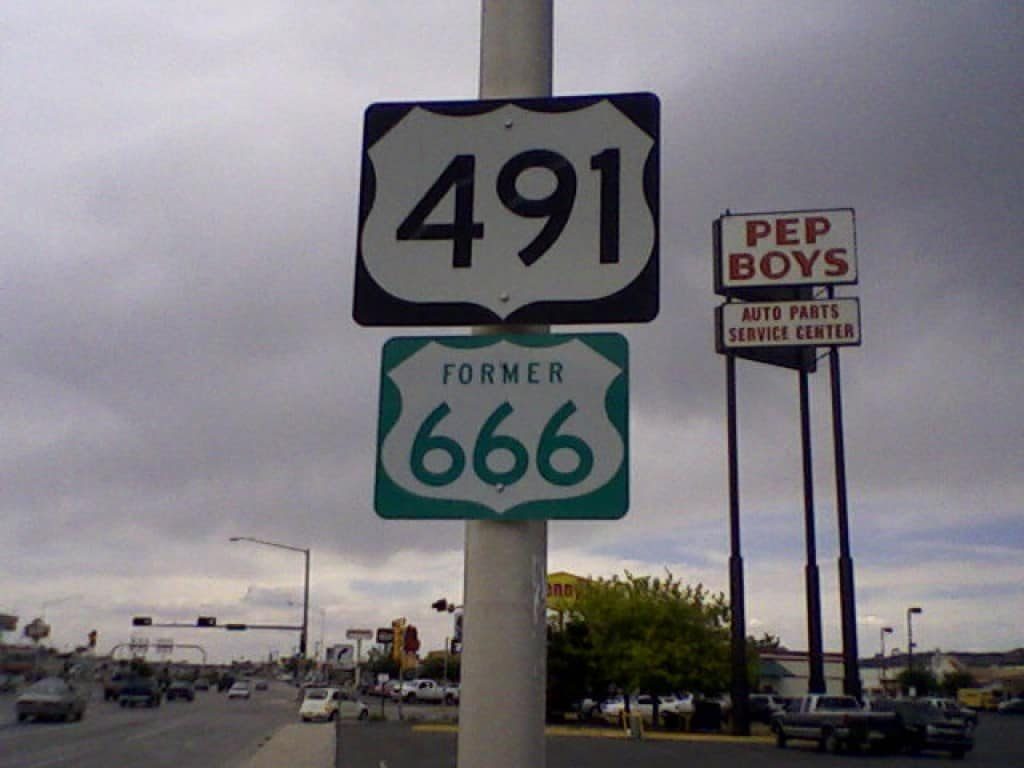 That was done after the three states petitioned the department with a resolution that included such clauses as: WHEREAS, people living near the road already live under the cloud of opprobrium created by having a road that many believe is cursed running near their homes and through their homeland; and WHEREAS, the number "666" carries the stigma of being the mark of the beast, the mark of the devil, which was described in the Book of Revelation in the Bible; and WHEREAS, there are people who refuse to travel the road, not because of the issue of safety, but because of the fear that the devil controls events along United States route 666; and WHEREAS, the economy in the area is greatly depressed when compared with many parts of the United States, and the infamy brought by the inopportune naming of the road will only make development in the area more difficult . . .  [And in the New Mexico application, let it be known that]: "There has been such an outcry from people living on or near US 66 in New Mexico and from the traveling public who avoid traveling on US 666, that House Joint Memorial 60 and Senate Joint Memorial 49 were passed by the 2003 Legislature of the State of New Mexico, to request assignment of a new designation for US 666 as quickly as possible." Has it worked? Noted Dunning: "In Arizona the road is now Highway 191. In Utah it is known as New 491/Old 666. This new moniker has not stopped the strange incidents from happening on the road, nor has it stopped people from telling stories about it. "Drive Route 666 at night, and you drive at your own risk."
–MHB
[resources: Lying Wonders, Strangest Things]