---
We recently had an article about last words before death, and heard from readers. Without further ado, let's go to the mailbag:
"I could not have been more blessed in what my dad's last words to me were: 'David, I love you!'" wrote David Pacitti, simply and touchingly. What words are more powerful — and a better farewell?
Let us spend our lives cleansing so that gentleness and love and not meanness and inner darkness come forth when the filters of earthly cogitation begin to dissolve.
"When my father was starting to pass he kept saying, 'I have to go, I have to go!' and he tried to get out of the bed," wrote Sandy Biluk of Romeo, Michigan. "He seemed to be in quite a rush! I was overcome with a sense that he was free and I was happy!"
"I read with interest your story on famous last words," says a nurse, Nancy Hines, d
irector of health services at 
St. Ambrose University in Davenport, Iowa.
 "It reminded me of my mother's last words to my father just before she passed from this life. 
She had been in a coma when she woke up and asked our father if she was dying. He told her yes. She replied saying, 'Take care of the children.' And then, 'Do you hear it? Do your hear the music? It's beautiful.' I've never forgotten this and so very thankful for this blessing."
Indeed — the music of the spheres, the music that heals, that ministers…
As for the mention of children: this is often a chief concern of the dying; in some cases, Jesus has been known to tell them not to worry; they will do find without the person, because He is looking after them.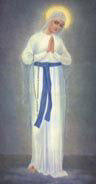 "When my beloved dad, Bernard Dippolito, passed away at age of 96, he pointed to the ceiling in his room at the V.A. hospital in East Orange, New Jersey, and with the biggest smile said, 'Look up there look at all the beautiful lights of all colors,'" notes another reader. "He was ecstatic! He was a faithful Catholic until his death in 2013 when he died receiving the sacraments." 
Wrote Frank Stanton of  Melrose, Massachusets, "The night before my mother died, she asked my sister, "who is that little kid up there?" Yes, it was the corner of the ceiling. She had lost three babies.
The next day she went into a coma. Just as I finished saying the Divine Mercy Chaplet over her, her eyes came wide open and her countenance was one of awe. I had never seen such an expression. I asked her, Mama what do you see?! At that moment, she closed her eyes…"
"I just spoke with my mother-in-law regarding the death of her father yesterday (11/20/17)," noted another viewer named Patti, from Wilmington, Delaware, on a more sobering note. "
What she told me really concerns me as I agree with you about the dying seeing what lies beyond the veil. 
On November 7th Grandpa told his caregiver he felt 

that

 

he was dying. On Thursday 11/16/17, his 92nd birthday, he was agitated and could not swallow very well. He paced back and forth between different rooms of his farmhouse for a very long time. It was unusual for him to be so active.
"On Friday (11/17/17) 
He kept remarking about the fire and how he had to get out of there. His daughter said they haven't had a fire in the fireplace for years; that there is no fire. But he kept commenting about a fire and having to get out of there.
"On Saturday Grandpa was in his room yelling incoherently for hours. They couldn't understand what he was yelling about.
"Sunday 11/19/17 he was exhausted and slept most of the day. On Monday they kept him in bed and he died at 4:30 p.m. 
He was a quiet man. A man of few words. He seemed to be a gentle soul. His mother had great faith and a great example. He was brought up Methodist and both he and his wife attended regularly until they became frail. He suffered from dementia. 
I can't help but think that if he was yelling and seeing visions of fire around him that it was not a good place he was seeing. At least that is my biggest fear. Perhaps purgatory?"
So many mysteries, while we are still on earth, while we still only with earthly eyes.
Wrote Raven Wenner of Cheshire, UK, concerning a woman he knew in the old British West Indies, a lady who lived totally alone in the rain forest in a wood hut with a thatched roof. "A neighbor looked in once a day to fix her meals. The neighbor had sent word that the old lady politely said she didn't want to eat any more, and that she wanted the Last Anointing.
"She sat in a rocking chair in her poor but neat hut and greeted us with serene courtesy," recalls Raven. "On the wooden wall over a little table was tacked an old calendar print of the Sacred Heart. After receiving the Last Rites and holy Communion, I saw the wonderful happiness in her face.
"When at last she opened her eyes, she smiled down at me (I was sitting on a low stool by her rocking chair) and said unexpectedly, 'What you want to ask me?'
"She was so gracious I was unafraid to ask, 'What is it like?'
"She smiled and said, '[I do] feel my body shutting down, shutting down. When you come next week I will be gone. [I'll be] ready."
"Her quiet joy seemed to overflow into the rest of us in the room, and in my memory the air in the hut was golden and mellow, something like amber honey.
"She looked so quietly pleased, smiling to herself, her rosary in her hands as we left her gently rocking in the hut by the edge of the rain forest. And the next week? Yes, she was gone to God, and I think without a backwards glance."