From Associated Press:
Roman Catholic priests, deacons and bishops across the Amazon voiced surprise, resignation and reluctant acceptance of Pope Francis' refusal to allow married men to be ordained priests, lamenting that their faithful will continue to be deprived of Mass and subject to competing evangelical churches that have made impressive inroads in the region.
Francis sidestepped the issue in his big document on the Amazon released Wednesday. While he officially presented recommendations by the Amazon's church hierarchy to consider ordaining married permanent deacons, he refused to endorse the idea to address an acute priest shortage in the region, where the faithful can go months or years without a Mass.
[ For Full Story ]
[Return to www.spiritdaily.com]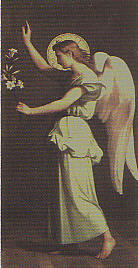 Pray always for purity and love
+++
Please report any inappropriate ads or content