From The Catholic Herald:
Bishop James Wall of Gallup has announced in a pastoral letter the restoration of the order of the sacraments of initiation in the mission diocese.
Once the new policy is implemented, children will receive Confirmation and First Holy Communion in the same Mass, at around the age of 7 or 8. "Receiving the Sacrament of Confirmation long after the reception of Holy Communion, tends to weaken the understanding of the bond and relationship that the Sacraments of Initiation have with one another," Bishop Wall wrote in his February 11 pastoral letter The Gift of the Father.
[ For Full Story ]
[Return to www.spiritdaily.com]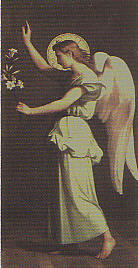 Pray always for purity and love
+++
Please report any inappropriate ads or content