From Associated Press:
WASHINGTON (AP) — The nation's capital bids its final farewell to the late former President George H.W. Bush on Wednesday in a service of prayer and praise that is drawing together world envoys, Americans of high office and a guy from Maine who used to fix things in Bush's house on the water.
A viewing for the 41st president at the hushed Capitol Rotunda closed Wednesday morning. A ceremony at Washington National Cathedral, the nexus of state funerals, will cap three days of remembrance by dignitaries and ordinary citizens as they honored the Republican president who oversaw the post-Cold War transition and led a successful Gulf War, only to lose re-election in a generational shift to Democrat Bill Clinton in 1992. The four living ex-presidents are coming — among them, George W. Bush will eulogize his father — and President Donald Trump will attend but is not scheduled to speak. Also attending: one king (Jordan), one queen (Jordan), two princes (Britain, Bahrain), Germany's chancellor and Poland's president, among representatives of more than a dozen countries.
From Fox News:
The Bush family contacted the White House this past summer saying that President Trump would be welcome at George H.W. Bush's funeral and assured Trump that the focus would be on the 41st U.S. president's life rather than their disagreements, The Washington Post reported, citing a former administration official.
"This will be about the celebration of the noble public service that George H.W. Bush gave. It's not going to be about anybody else. I don't think it's going to be about Trump," a former Bush associate told Politico. A person close to the funeral preparations told The Post that the tone of Wednesday's funeral at the Washington National Cathedral will reflect the sense of propriety of Bush, who "wouldn't want anyone there to feel uncomfortable, including the incumbent president."
From CNN:
Despite antipathy between the Bush family and President Donald Trump, the 41st president made clear he wanted America's current leader to be at the funeral, putting the institution of the presidency above personal animosities. Trump has confirmed he will attend the event, which follows a series of national disasters and tragedies and moments of public mourning that have caused critics to fault his behavior as short of that expected of a president. To his credit, Trump canceled what was certain to be a contentious news conference at the G20 summit in Argentina on Saturday out of respect for Bush. He also sent one of the iconic blue-and-white 747 jets that serves as Air Force One when a president is aboard to Texas to carry Bush's casket.
[ For Full Story ]
[Return to www.spiritdaily.com]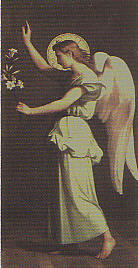 Pray always for purity and love
+++
Please report any inappropriate ads or content