From the Los Angeles Times:
A 32-year-old man filed a lawsuit Wednesday aga
inst the Archdiocese of Los Angeles, Cardinal Roger Mahony and an ex-priest who was returned to parish duties even after admitting to molesting children.
Mahony went on to reassign Michael Baker to several other Roman Catholic parishes, where he abused more boys, many of them immigrants. The lawsuit is one of the first cases filed against Mahony, formerly the Archbishop of Los Angeles, since California enacted legislation last year that sets aside the state statute of limitations and provides more time for victims of childhood sexual abuse to seek civil damages.
[ For Full Story ]
[Return to www.spiritdaily.com]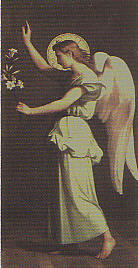 Pray always for purity and love
+++
Please report any inappropriate ads or content