From Manantial Stereo [translation]:
A fire in a chapel in the Cathedral of Managua caused damage to the image of the Blood of Christ, the Crucifix most revered by Catholics in Nicaragua.
The Archdiocese of Managua reported the fact through a statement: "Today, Friday, July 31, at 11 a.m., an unidentified person entered the Chapel of the Blood of Christ in the Metropolitan Cathedral of Managua and dropped a bomb that produced a fire where the consecrated and venerated Image of the Blood of Christ remains." Cardinal Leopoldo Brenes, archbishop of Managua, described the event as a terrorist act. "It is an act to intimidate the church in its evangelizing work, but as the apostle Saint Paul says: 'Who can separate us from the love of God?'" he said.
From Catholic News Agency:
An unidentified man threw a firebomb into a chapel of Managua's Cathedral of the Immaculate Conception on Friday, severely damaging the chapel and a devotional image of Christ more than three centuries old.
"This was a planned act, very calmly planned," Cardinal Leopoldo Brenes of Managua said. "So I want to say it clearly: it is a terrorist act, an act of intimidating the Church in her mission of evangelization." The man wore a hood and held something in his hands that witnesses could not identify. He entered the Chapel of the Blood of Christ and said "I come to the blood of Christ," the Nicaraguan newspaper La Prensa reports. The witnesses saw the man throw the object in his hands.
[ For Full Story ]
[Return to www.spiritdaily.com]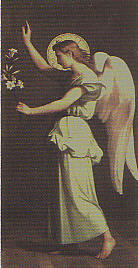 Pray always for purity and love
+++
Please report any inappropriate ads or content