[Note: this is an UNAPPROVED apparition]
From the Yucatan Times:
Controversy is normally not associated with Virgins, a representation of Mary, Jesus' mother, but there are exceptions to every rule. About a half century ago, in 1953, eight year old children Juan Angel Collado and the sisters, Ramonita and Isidra Belén, were students in southwest Puerto Rico, claiming to have seen to the Virgin of the Rosary. The Virgin appeared to them for 33 consecutive days, one for each year of Jesus' lifespan, between April 23 and May 25, near a well providing water to their school.
The original Virgin of the Rosary appeared in 1571 at the Battle of Lepanto, defeating a Muslim fleet off western Greece. The battle was a decisive victory in keeping Europe largely Catholic. Our Lady of the Rosary is patronness of battles and victory. Today in the glittering Rosary Chapel at Atotonilco frescos depict the Battle of Lepanto. If you look closely you will see where some of the galleons has wandered off to an adjoining fresco, apparently tired of the battle. A unique attribute to the Puerto Rican virgin is her crown of seven stars representing the seven sacraments (baptism, first communion, marriage, etc.). The brightest star is on her forehead representing communion, or the consumption of Jesus' body and blood.
[ For Full Story ]
[Return to www.spiritdaily.com]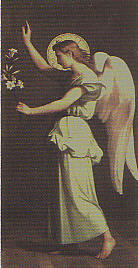 Pray always for purity and love
+++
Please report any inappropriate ads or content