From The New York Times:
"Where are we going, Bake?" he asked.
"We're going to heaven," Mr. Baker answered.
"That's where I want to go," Mr. Bush said. In an interview on Saturday, Dr. Levenson, who has been Mr. Bush's pastor for more than 11 years and visited repeatedly in recent weeks, said the former president was comforted that he would soon rejoin Barbara, his wife of 73 years, who died in April, and Robin, their daughter, who died in 1953 of leukemia at the age of 3. Ronan Tynan, the Irish tenor, had called earlier in the day to ask if he could drop by, and when he showed up, Ms. Becker asked him to sing to the president. Mr. Tynan sang two songs, the first "Silent Night" and the second a Gaelic song.
As he sang "Silent Night," Mr. Baker said, "Believe it or not, the president was mouthing the words."
From The New York Times:
George Bush, the 41st president of the United States and the father of the 43rd, who steered the nation through a tumultuous period in world affairs but was denied a second term after support for his presidency collapsed under the weight of an economic downturn and his seeming inattention to domestic affairs, died on Friday night at his home in Houston. He was 94.
His death, which was announced by his office, came less than eight months after that of his wife of 73 years, Barbara Bush. Mr. Bush had a form of Parkinson's disease that forced him to use a wheelchair or motorized scooter in recent years, and he had been in and out of hospitals during that time as his health declined. In April, a day after attending Mrs. Bush's funeral, he was treated for an infection that had spread to his blood. In 2013, he was in dire enough shape with bronchitis that former President George W. Bush, his son, solicited ideas for a eulogy.
From Associated Press:
HOUSTON (AP) — He was the man who sought a "kinder, and gentler nation," and the one who sternly invited Americans to read his lips — he would not raise taxes. He was the popular leader of a mighty coalition that dislodged Iraq from Kuwait, and was turned out of the presidency after a single term. Blue-blooded and genteel, he was elected in one of the nastiest campaigns in recent history.
George Herbert Walker Bush was many things, including only the second American to see his son follow him into the nation's highest office. But more than anything else, he was a believer in government service. Few men or women have served America in more capacities than the man known as "Poppy." "There is no higher honor than to serve free men and women, no greater privilege than to labor in government beneath the Great Seal of the United States and the American flag," he told senior staffers in 1989, days after he took office.
[ For Full Story ]
[Return to www.spiritdaily.com]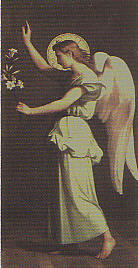 Pray always for purity and love
+++
Please report any inappropriate ads or content