From CNN:
Georgia Gov. Brian Kemp on Tuesday signed a bill that would ban abortions if a fetal heartbeat can be detected — a law that the American Civil Liberties Union says it will challenge in court.
Currently in Georgia, women are allowed to undergo abortion procedures up to their 20th week of pregnancy. Starting on January 1,
the bill Kemp signed
generally would ban abortions after a fetal heartbeat is detected, which can be as early as six weeks into a pregnancy — when many women don't yet know they're pregnant. "(The bill) is very simple but also very powerful: a declaration that all life has value, that all life matters, and that all life is worthy of protection," Kemp, flanked by supporters of the bill, said Tuesday morning before signing the legislation at the state Capitol.
[ For Full Story ]
[Return to www.spiritdaily.com]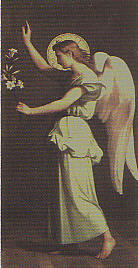 Pray always for purity and love
+++
Please report any inappropriate ads or content