From Boston Herald.com:
The Satanic Temple that has made headlines nationwide for its highly confrontational political displays calls Salem home. The Track went behind the scenes to get a glimpse at the group's local headquarters and see what life's like for the Satanists next door.
"When we first got here, I was concerned about revealing our presence, that there might be an angry mob with pitchforks and torches," co-founder Lucien Greaves told the Track of the house on Bridge Street. "But we did an open house and invited neighbors to come and sit down and chat with us. We answered any of their questions, in case they were concerned." Amid the witchy hoopla of downtown Salem, the international headquarters occupies an antique home that — save for a facade of pitch-black clapboard — looks unassuming. On the front porch hangs a wreath of kindling in the shape of a goat head. Inside, it's every goth teen's Victorian dream home. A grand yet chilling staircase stands in the entryway, off of which branch rich rooms decorated with elegantly creepy touches like heavy, dark carved woodwork, velvet damask wallpaper and glass display cases filled with twisted artifacts.
[ For Full Story ]
[Return to www.spiritdaily.com]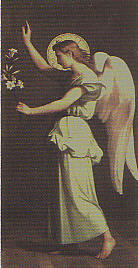 Pray always for purity and love
+++
Please report any inappropriate ads or content