From Associated Press:
The number of coronavirus infections was set to top a half-million worldwide on Thursday as both Italy and the United States appeared poised to surpass China, where the pandemic began, and Spain's death toll climbed to more than 4,000. Health care systems in Europe and New York buckled under the strain.
Faced with the spread of the pandemic, the U.S. Senate passed a $2.2 trillion economic rescue package steering aid to businesses, workers and health care facilities. Millions of Americans hoped the measure, which is expected to be voted on in the House on Friday, would give them a lifeline as they lost jobs, income and child care due to lockdowns, travel restrictions and business closures. At least 2.8 billion people are under severe travel restrictions. But the head of the World Health Organization, Tedros Adhanom Ghebreyesus, scolded world leaders for wasting precious time in the fight against the virus that has already killed more than 22,000 people and infected over 480,000, thrown millions out of work and ravaged the world economy.
[ For Full Story ]
[Return to www.spiritdaily.com]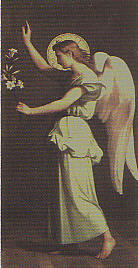 Pray always for purity and love
+++
Please report any inappropriate ads or content