From Bradenton Herald:
One week after 85-year-old Millie Francis publicly declared, "They'll have to kill me first," before allowing a painting of the Virgin Mary to be removed from her mobile home, attorneys representing the Bradenton Tropical Palms mobile home park sent a letter threatening to sue.
Francis received notification from the park's law firm on Nov. 9 that she had 30 days to remove the painting or she would face legal action. The deadline is days away but "It's not going anywhere," Francis said on Tuesday. The painting is on a piece of plywood where her front window used to be. Francis had the window removed in April, with permission from the park, after having issues of security personnel shining flashlights into her home late at night. But when she had the painting done, property manager Janet Nowakowski told her it had to be removed.
[ For Full Story ]
[Return to www.spiritdaily.com]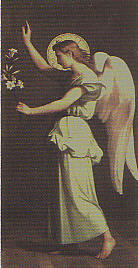 Pray always for purity and love
+++
Please report any inappropriate ads or content