From Slate:
Six years later, a book was published that would become a sensation. The Boy Who Came Back From Heaven—
with Kevin and Alex listed on the cover as co-authors—tells the saga of Alex's improbable survival. But it wasn't that medical miracle that launched the story to fame. In the book, Alex claimed he had spent time in heaven after the accident, and continued to be visited by angels and demons after he emerged from his coma two months later. He wrote that he traveled through a bright tunnel, and was greeted by five angels, and then met Jesus, who told him he would survive; later, he saw 150 "pure, white angels with fantastic wings." Heaven has lakes and rivers and grass, the book says. God sits on a throne near a scroll that describes the End Times. The devil has three heads, with red eyes, moldy teeth, and hair made of fire.
Until things came crashing back to earth. The cover of The Boy Who Came Back From Heavencalls the book "a true story." But the boy himself now says it was not true at all. Four years ago, Alex sent a letter to a conservative Christian blog dramatically renouncing the book. "I did not die. I did not go to Heaven," he wrote. "I said I went to heaven because I thought it would get me attention. … People have profited from lies, and continue to." Alex's retraction also became a sensation, with reporters unable to resist the sudden, hilarious perfection of his last name: Malarkey.
[ For Full Story ]
[Return to www.spiritdaily.com]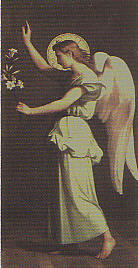 Pray always for purity and love
+++
Please report any inappropriate ads or content