From Catholic Herald:
Pope Francis Monday recognized the heroic virtue of nine-year old Brazilian boy, who "never complained" during cancer treatments, but instead offered his suffering to Jesus.
Diagnosed in 1963 with osteosarcoma, Nelson Santana, then eight years old, asked his mother in the hospital one day to "promise Jesus not to complain in the face of suffering and pain." A nurse and religious sister who cared for Santana noted the child's "extraordinary ability" to understand the meaning of the suffering of Christ. The sister ensured Santana continued to receive religious instruction in the hospital, where he also received his first communion.
[ For Full Story ]
[Return to www.spiritdaily.com]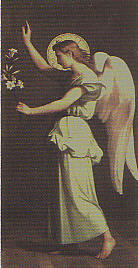 Pray always for purity and love
+++
Please report any inappropriate ads or content