From The Washington Post:
When the Rev. Jeffrey Dauses was starting out in his life as a Catholic priest, tradition held that the parents of a newly ordained young man should give him a special gift to mark the occasion: the chalice he would use to offer Holy Communion to the faithful.
In many ways, Dauses's was more special than most. His working-class parents scrimped and saved $1,800 to have his brass-and-silver version made. William Borders, the 13th Archbishop of Baltimore, blessed it at a private Mass. And Dauses brought it with him to one parish posting after another, from Frederick and Clarksville to Baltimore and Bel Air. All of which is why Dauses, now pastor of St. Andrew by the Bay Parish near Annapolis, was devastated when the chalice mysteriously went missing five years ago.
[ For Full Story ]
[Return to www.spiritdaily.com]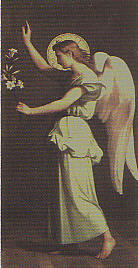 Pray always for purity and love
+++
Please report any inappropriate ads or content