From The New York Times:
It started with the front door.
Adrian Gomez lives with his partner in Los Angeles, where their first few days of sheltering in place for the coronavirus pandemic proved uneventful. They worked remotely, baked, took a two-mile walk each morning and refinished their porcelain kitchen sink. But then, one night, the doorknob began to rattle "vigorously," so loud he could hear it from across the apartment. Yet no one was there. For those whose experience of self-isolation involves what they to believe to be a ghost, their days are punctuated not just by Zoom meetings or home schooling, but by disembodied voices, shadowy figures, misbehaving electronics, invisible cats cozying up on couches, caresses from hands that aren't there and even, in some cases — to borrow the technical parlance of "Ghostbusters" — free-floating, full-torso vaporous apparitions.
[ For Full Story ]
[Return to www.spiritdaily.com]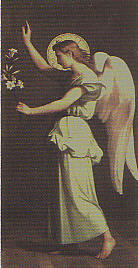 Pray always for purity and love
+++
Please report any inappropriate ads or content