From Fox News:
Severe storms acr
oss Ohio reportedly downed trees, knocked out power and damaged a Scioto County church — potentially beyond repair.
Meanwhile, a tornado may have touched down in Miami County, Dayton's WDTN-TV reported. The steeple and several bricks from the Evangelical United Church of Christ in Portsmouth, Scioto County, about 120 miles southeast of Dayton, were blown off by the wind, WSAZ-TV of Huntington, W. Va., reported.
From Associated Press:
Severe storms sweeping across southern portions of the U.S. and up into the Midwest were blamed Saturday in the deaths of at least 11 people, including two first responders, as high winds, tornadoes and unrelenting rain battered large swaths of the country. Storm-related fatalities were reported in Texas due to icy weather, in Alabama from a deadly tornado and in Louisiana, where winds were so strong that a trailer home was lifted off its foundation and carried several hundred feet. A man drowned in Oklahoma and the storms even touched the Midwest with at least one death on an icy highway in Iowa. Hundreds of thousands of people were left without power from Texas to Ohio, parts of highways were closed in Oklahoma and Arkansas due to flooding and hundreds of flights were canceled at Chicago's international airports.
Tornadoes destroyed homes in Arkansas and Missouri and also caused damage in Oklahoma as severe storms threatened much of the South over the weekend, officials said.
The national Storm Prediction Center said more than 18 million people in Louisiana, Arkansas, Texas and Oklahoma were at an enhanced risk of storms Friday, including from strong tornadoes, flooding rains and wind gusts that could exceed 80 mph (129 kph), the speed of a Category 1 hurricane. The area included several major Texas cities including Dallas, Houston and Austin.
[ For Full Story ]
[Return to www.spiritdaily.com]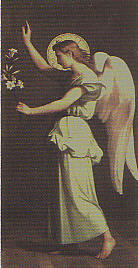 Pray always for purity and love
+++
Please report any inappropriate ads or content