From Associated Press:
Bad weather continued to afflict parts of Europe on Tuesday with avalanches in Austria striking buildings and roads but resulting in no injuries.
An overnight avalanche in Ramsau, central Austria, slammed a hotel. All 60 visitors and staff, most of whom were from a Danish ski club, got out of the building unharmed.
From AP:
A winter storm that contributed to at least five deaths in the Midwest pummeled the mid-Atlantic region for a second day Sunday, bringing with it an icy mix that knocked out power, cancelled flights and contributed to hundreds of car accidents.
Virginia State Police said the driver of a military surplus vehicle was killed late Saturday after he lost control on Interstate 81 because of slick road conditions. Police said Ronald W. Harris, 73, of Gainesville, Georgia, died after his vehicle was struck by two tractor-trailers. The two tractor-trailer drivers were taken to a hospital for injuries that were not life-threatening. The state medical examiner determined Sunday that Harris' death was storm-related, police said.
[ For Full Story ]
[Return to www.spiritdaily.com]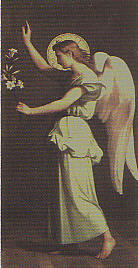 Pray always for purity and love
+++
Please report any inappropriate ads or content