From National Parks Traveler:
Our forefathers were fiendish, hellish, you might even say devilish. Need proof? Look at the maps and the names of many of the places we visit. And then ask yourself, "Why in the Hell are so many places in our Western national parks named after the infernal demon, and his lair?"
You would think that the spiritual would overrule the demonic, based on the early settlers' religious bent, but hundreds of hellish names are written large across our landscape, making it seem like a literal Hell on Earth. There are Hell Gates, Hell Holes, and Hell's Half-acres. There are Devils Slides, Devils Playgrounds, Devils Postpile, Devils Golf Courses, and Diablo Canyons. Yellowstone National Park is rife with these names. The Western landscape is harsh, dry, and rugged, so maybe it's appropriate that the broad deserts, sweeping plains, jagged peaks, strange earth forms, and unearthly chasms have been given these labels. And they're not even all in English. While Native American nations traditionally don't have a literal "Devil" figure as we know it, there are spiritual names in their landscape. The early invading Spanish left a large legacy of places with Diablo and Inferna names, and even the French got into the game with Purgatoire.
[ For Full Story ]
[Return to www.spiritdaily.com]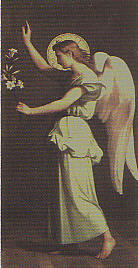 Pray always for purity and love
+++
Please report any inappropriate ads or content