From The Catholic Exchange:
These past six months, my husband, Ben, and I have had very little quiet time. Now the parents of four young children under the age of eight, we intend to enter Mass with a few moments of meditation beforehand, but we're instantly interrupted with a crying baby or a toddler wandering off by the baptismal font.
The same is true for daily prayer. We were discussing this a while back: we sit down with fifteen minutes of what we anticipate will be uninterrupted time spent with God, and inevitably something unexpected happens. This could be very early in the morning, very late at night, during the kids' naptimes, or any time in between. How is it possible to handle these distractions without feeling overwhelmed or mentally drained? Here are some tips that help me through distracted prayer.
[ For Full Story ]
[Return to www.spiritdaily.com]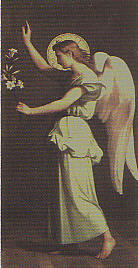 Pray always for purity and love
+++
Please report any inappropriate ads or content