---
This week, two of the nation's largest newspapers ran features on the volcanic rise of occultism.
True danger here.
The fruit of Potter (and TV, and "noneism," and Church aridity)?
From The New York Times:
We're living in the middle of a religious revival; it's just that the movements that are rising are not what we normally call "religion." The first rising movement is astrology. According to a 2018 Pew poll, 29 percent of Americans say they believe in astrology. That's more than are members of mainline Protestant churches.
This surge in belief is primarily among the young. According to a National Science Foundation survey, 44 percent of 18- to 24-year-olds say that astrology is somewhat or very "scientific." Unsurprisingly, online horoscope sites are booming. Stella Bugbee, editor of The Cut, told The Atlantic that in 2017 the typical horoscope got 150 percent more traffic than it had the year before.
Another surging spiritual movement is witchcraft. In 1990, only 8,000 Americans self-identified as Wiccans. Ten years later there were 134,000, and today, along with other neo-pagans, there are over a million. As Tara Isabella Burton put it in an excellent, deeply researched essay in The American Interest, "Wicca, by that estimation, is technically the fastest-growing religion in America."
The third great rising spiritual force is mindfulness, which seems to be everywhere. The fourth is wokeness, what some have called the Great Awokening. Burton's essay is really about how astrology and witchcraft have become important spiritual vocabularies within parts of the social justice movement.
From the Los Angeles:
The Oracle, who also goes by Amanda Yates Garcia, is a former arts educator with a master of fine arts in writing, film and critical theory from California Institute of the Arts. For the past eight years she has made her living as a professional witch, performing "energetic healings," "intuitive empowerment sessions" and the occasional exorcism, while also teaching workshops on the art of magic online and at her home, independent stores, and sites like the J. Paul Getty Museum.
The Oracle understands the value of marketing, so she also devotes several hours each week to outreach: writing newsletters
, updating her website and sharing tips on social media on topics such as how to break a curse using the "disruptive energy of a lunar eclipse." "If you think being a witch is just sitting around doing spells all the time, you think wrong," she says. "Half my business is being on Instagram."
What do you think of when you hear the word "witch"? Pointy black hats? The Salem witch trials? The free-spirited members of the pagan religion Wicca? Today's working witches, whose prominence is growing thanks to social media, primarily see themselves as healers. They help clients who are struggling to cope with life's hurdles — heartache, aging, misogyny, work stress — and who find that more culturally accepted remedies, such as therapy and meditation, aren't enough.
From the American Interest [caution, secular sites]:
ack in March 2019, an elected government representative shared something personal about her spiritual identity. Not a preferred Bible verse or a conversion story. Rather, progressive New York Representative Alexandria Ocasio-Cortez shared her birth-time with a self-described psychic and astrologer, Arthur Lipp-Bonewits, who in turn shared her entire birth chart with what can only be described as Astrology Twitter.
Astrology Twitter went wild. So did the mainstream media, with outlets from Voxto The Cut to Allure speculating about what Ocasio-Cortez's astrological chart could tell us about her fitness for political office. "AOC's Aries Moon indicates that she's emotionally fed by a certain amount of independence, self-determination, and spontaneity," concluded Allure's Jeanna Kadlec. "But that independence always finds a way home." Meanwhile, Lipp-Bonewits told The Cut's Madeleine Aggeler that the stars predicted that Ocasio-Cortez's "career in politics is likely to last the rest of her life."
Ocasio-Cortez's decision to share her birth-time with Lipp-Bonewits might be an unprecedented move for a political figure—Hillary Clinton famously avoided the question, sparking years of debate among astrologers. But it was also a canny one. Twenty-nine percent of Americans say they believe in astrology, according to a 2018 Pew poll, while just 22 percent of Americans call themselves mainline Protestants.
More importantly, however, AOC's gambit taps into the way in which progressive millennials have appropriated the rhetoric, imagery, and rituals of what was once called the "New Age"—from astrology to witchcraft—as both a political and spiritual statement of identity.
[ For Full Story ]
[Return to www.spiritdaily.com]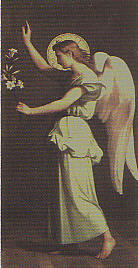 Pray always for purity and love
+++
Please report any inappropriate ads or content