---
[For discernment ONLY]
MESSAGE FROM THE BLESSED VIRGIN MARY
TO HER BELOVED DAUGHTER LUZ DE MARIA
JANUARY 28, 2020
Beloved Children of My Immaculate Heart:
I CARRY YOU WITHIN MY MATERNAL HEART.
Each person is special to Me and I do not want you to be lost in the middle of confusion that the Church of My Son is facing and will face.
Each one of you, as part of the Mystical Body, has to live the Faith deeply. Each person in particular has to strengthen their Faith and live in continuous union with My Son.
You are My Son's People; even so, you need to stay within the column as it moves (cf. Ex 13:21), fulfilling the Divine Will, being aware that YOU CANNOT HIDE FROM THE EYES OF MY SON (cf. Jer 23:24).
This is the time of suffering for the People of My Son. FAITH IS GOING TO BE TESTED, and therefore you have to be aware that you cannot be lukewarm (cf. Rev 3:15-16), you cannot proclaim with your mouth that you love My Son and do otherwise with your mind, you cannot praise My Son with one hand and do otherwise with the other, so you must praise with both hands, you must love My Son with your heart, powers and senses, not by half measures.
MY SON'S PEOPLE WILL BE MORE GREATLY PUT TO THE TEST, so that in each person might transpire that which exists in the depths of their mind, their thoughts, their heart. Thus each person will respond in truth, in lukewarmness or in denial.
Difficult moments are coming; the faithful People of My Son will be persecuted by those who do not love My Son and by those who, being part of My Son's People, have recourse to modernism, forgetting "tradition and sound doctrine"; given the confusion, some will be persecutors of others.
I WARN YOU, MY CHILDREN, "FOUNDATIONS ARE NOT DUG IN THE AIR"; YOU HAVE THE MAGISTERIUM OF THE CHURCH AND IN IT YOU MUST REMAIN.
Beloved children, it is important for you to hold to proper spiritual preparation; only then and in this way will you be able to face what is approaching for humanity, supporting yourselves in the Faith.
YOU MUST MAINTAIN PEACE NOT ONLY IN YOURSELVES, BUT IN YOUR HOMES AND WHEREVER YOU ARE; WITHOUT PEACE YOU ARE OPEN TO SATAN'S WILES.
Understand that you need to be aware of the time in which you are living, of your work and action; nothing is hidden from God's Eyes (cf. Heb 4:13).
My children, you know full well that those who stand over the governments of the world are keeping what they want hidden, and you should not live as if nothing were happening. Maintain a healthy diet, so that your body does not easily fall prey to the diseases about which I have previously alerted you in the name of the Father's House. (1)
Great pestilences, plagues generated by unknown viruses are advancing upon humanity: use the oil of the Good Samaritan (2) as protection faced with a case of a highly contagious disease where you live – the quantity of the head of a pin on the earlobes will suffice. If the number of those infected increases, you should put it on both sides of your neck and on the wrists of both hands.
My children, the subjection of governments to the new world order does not take you into account; on the contrary, the order is against humanity.
The earth continues to shake strongly; prepare yourselves with what is necessary, no country should feel that it is exempt from suffering. This causes volcanoes to become active, and My children will suffer more. Humanity must prepare for great changes: one country will suffer and another will suffer at the same time, they will not be capable of mutual assistance if both are affected.
SAVE YOUR SOULS, CHILDREN OF MY IMMACULATE HEART, SAVE YOUR SOULS.
Prepare yourselves to stay within the refuge of Our Sacred Hearts; MAY EVERYONE MAKE THEIR HOME A REFUGE OF LOVE WHERE EVIL CANNOT PENETRATE.
Some of My children have readied themselves to create shelters in which to keep their brothers and sisters; do not worry, do not be distressed, as My Son will lead you to these shelters or keep you in your homes where you will be guarded.
Everyone must seek to be a true TEMPLE OF THE HOLY DIVINE SPIRIT, BEING MESSENGERS OF DIVINE LOVE, OF DIVINE PEACE: THE REST WILL BE ADDED UNTO YOU.
THE FATHER'S HOUSE CALLS YOU TO CONTINUE WITH CONVERSION.
BEING UNITED AND OBEYING WHAT MY SON ALLOWS ME TO CONVEY TO YOU, THE WAY IS MORE BEARABLE.
 YOU ARE GOD'S PEOPLE, YOU ARE LOVED BY THE MOST HOLY TRINITY, THIS MOTHER BLESSES AND LOVES YOU, DO NOT FALTER OR DESPAIR, HAVE FAITH!
FAITH ABOVE ALL ELSE, MY CHILDREN, FAITH ABOVE ALL ELSE: WITHOUT FAITH MAN IS NOTHING.
 YOU ARE MY SON'S PEOPLE, AND BEING OBEDIENT CHILDREN, FULFILLERS OF THE DIVINE WILL, DIVINE PROTECTION REMAINS WITH YOU.
DO NOT FEAR, MY CHILDREN, I COVER YOU WITH MY MANTLE!
I bless you.
Mother Mary
HAIL MARY MOST PURE, CONCEIVED WITHOUT SIN
HAIL MARY MOST PURE, CONCEIVED WITHOUT SIN HAIL MARY MOST PURE, CONCEIVED WITHOUT SIN
 (1) Revelations about great plagues and illnesses: read…
(2) OIL OF THE GOOD SAMARITAN
Ingredients:
5 Pure essential oils + 1 Base oil
Essential oils:
Cinnamon oil
Clove oil
Lemon oil
Rosemary oil
Eucalyptus oilBase oil:
The base oil can be olive oil, almond oil or mineral oil. The ratio should be 1 measure of pure oil to 5 measures of base oil.
Preparation:
Mix all 5 pure essential oils (cinnamon + clove + lemon + rosemary +eucalyptus) with the base oil (olive oil or almond oil or mineral oil, choose one) Mix them with a wooden spoon until getting a homogeneous mixture.
Recommendations:
Elaborate in a cool place, without exposing the oils to direct light.
Wear gloves and use a glass bowl.
Test the mix on your forearm, wait 25 minutes. If skin reddens, wash with plenty of water or lavender oil, and little by little the redness will disappear. When this effect happens, add more of the same base oil with which the mixture was prepared. Do not expose the oils to the air for a log time; keep them in a tightly closed amber color glass container to prevent them from volatilizing and evaporating.
They should be kept out of the reach of children.
Dosage and application:
Before each use move the container softly so the oils get mixed.  Apply and rub a few drops directly on the temples, throat, behind the ears, underarms, abdomen, joints, or full foot sole.  To purify the air and remove viruses from the environment, home or office, use a diffuser, spray or pan of boiling water with a few drops.
Another way to use: in a piece of cloth, handkerchief, dust mask or cotton balls put 3 to 4 drops of oil and place over the mouth.
Contraindications:
Do not use an essential oil directly on the skin without first diluting it in a base oil. Oils on their own are irritants and must be carefully handled.  For sensitive skin, apply only on foot sole.  It is not recommended for children under 3 years of age.  Pregnant women: ask a professional about the negative effects of the essential oils.  The recipe that the Mother has given us uses pure essential oils. If these cannot be found, you can get the corresponding herbs for each essential oil.  With the same measure of each place the leaves and the cinnamon sticks one by one in a slow cooker (ceramic electric) or in a double boiler (water bath, bain marie) and add a base oil, enough to cover them 2 cm above them, and cook for 8 hours; let cool, pour into glass container.  In all the countries you can find these essences to make the mixture.  It is recommended that during preparation, we keep in prayer.
 (*) CLARIFICATION: we do not sell the oil or any other product, we only offer the formula and how to prepare it.
MESSAGE FROM SAINT MICHAEL THE ARCHANGEL
TO LUZ DE MARIA
JANUARY 19, 2020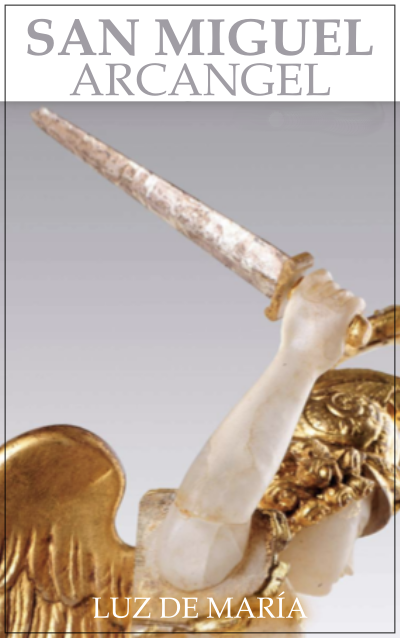 Beloved People of God:
WITH GRATITUDE TOWARDS THE MOST HOLY TRINITY, I CALL YOU NOT TO WAIT TO CONVERT.
Our Queen and Mother of all creation invites you to take this step NOW!
I see the demons confronting man, inducing failures, disappointments, touching the human ego in order to make you lose your peace, Faith, trust and leave you in despair, the aim being that you feel abandoned by Our King and Lord Jesus Christ.
You are in an instant of fierce battle between good and evil (cf. Gn 3:6). Good progresses discreetly while evil unleashes itself at everything and against everything, sweeping away in its path whatever may be an impediment to its damaging plans; it raises its voice, it has stopped creeping, now it spots its prey from afar and attacks them when it sees that they are spiritually fragile in some respect.
People of God, you live in the world but are not of the world (cf. I Jn 2:15), yet you very easily forget this, especially when you suffer some spiritual discouragement: you act like who those who are of the world, forgetting that, forming part of the Mystical Body of Our King and Lord Jesus Christ, you must work and act with decorum, even if you are overcome by pain.
YOU HAVE NOT YET ENTERED INTO DESOLATION, THEREFORE YOU NEED TO BE STRONG, CREATURES OF FAITH, FULFILLERS OF THE DIVINE WILL, AND NOT STUMBLE, IN ORDER THAT YOU MIGHT BE ABLE TO MAINTAIN CONTINUITY IN THE CALLING THAT EACH PERSON HAS: BEING WORTHY CHILDREN OF THE KING (cf. Jn 1:12-13).
The earth shakes fiercely, causing humanity to feel fearful and therefore to look up in search of an answer that man has within himself, due to the distance that he maintains towards the Most Holy Trinity.
As a generation you must pray and put prayer into practice, receive the Body and Blood of Our King and Lord Jesus Christ and put that Communion into practice, otherwise acts do not bear fruit, acts are scattered on arid terrain and the human being will not bear fruits of Eternal Life. For this you must first prepare yourselves, properly repent of wrong committed and make a firm purpose of amendment so that you do not fall back into the same sinful acts.
As the People of God, you know full well that Satan, proud and arrogant, fights against you and does not warn you (cf. I Peter 5:8-9), since he works in the smallest details, in those that are imperceptible for you, and in this way, wounding your "ego", he brings his task to fulfilment and you do not recognize it. People of God, spiritual arrogance, spiritual pride, is the greatest evil of the children of Our King and Lord Jesus Christ, and it will be this evil that will lead part of humanity to defect because of not recognizing their mistakes and for not placing charity with one's fellow man and fraternal Love above all else (cf. I Jn 2:26; Rom 12:16; Prov 8:13).
Do not seek Our King and Lord Jesus Christ in ways that He has not indicated to you for finding him rightly. The person who is curious, the one who wishes to reach the unknown, will find a heavier cross, a burden that they were not carrying, and they will falter, stagger, until they become a creature that through merits is worthy of Divine Mercy.
The People of God need to strengthen themselves and increase their Faith, to seek unity and not separate themselves from the humble, because many people will come who will appear very wise and who will make great speeches; they will present you eloquently with innovations in all areas of life, but they are messengers of Satan who have been sent to lead you away from the true path that leads to Eternal Life.
There are no methods for achieving holiness – it is continuous, arduous work, the effort to be more humble and thus to be able to be regarded with Mercy by God. It is not the haughty but the humble, not the one who humiliates but the one who surrenders with humility, it is not the one who denies forgiveness but the one who forgives with humility, not the one who crushes their neighbor but the one who stands up and welcomes their neighbor with love, it is not the learned but the one who is humbly enlightened by the Holy Divine Spirit, who will obtain Mercy from God.
People of God, you must not wait – convert, do not accept false worldly idols, do not fall into temptation, BE FAITHFUL AT THIS MOMENT MORE THAN AT OTHER MOMENTS.
PEOPLE OF GOD, YOU WERE IMPATIENT AND WERE COMPLAINING THAT THE ANNOUNCED EVENTS WERE NOT ARRIVING: NOW BE PERSEVERANT AND DO NOT FALL, AS THE FORCE OF THE EVENTS WILL MAKE YOU WAKE UP.
Pray, People of God, pray for perseverance.
Pray, People of God, pray for Faith.
Pray, People of God, pray for unity.
Continue in faithfulness towards the true Magisterium of the Church of Our King and Lord Jesus Christ, be faithful!
You will say: on this day there is sunshine and it warms us, and the rain will come without you expecting it; you will say: we have water and let us use it, and contamination will come without you expecting it; in this place there are no diseases, and plagues will affect large areas: they will travel through the air – and this I have mentioned -, they will travel, they will spread through the air through airplanes. TERRORISM DOES NOT ONLY ACT ON THE GROUND, BUT IN THE AIR.
People of God, pray the Holy Rosary and cry out to Our Queen and Mother to hold you by Her Hand, and do not turn away from Our Queen and Mother; stay in Divine Hands so that you do not be led astray by developments that will surprise you.
YOU WILL BEAR FRUIT, EVEN IF IT SEEMS NOT TO BE THE CASE, IF YOU KEEP BEING FAITHFUL TO OUR KING AND LORD JESUS ​​CHRIST.
People of God, may loneliness not overwhelm you: you are loved by the Most Holy Trinity; may loneliness not overwhelm you: you are loved by Our Queen and Mother; may loneliness not overwhelm you: we protect and accompany you; invoke us, children of God – we are constantly watching you.
Be strong, stand firm, you are not helpless, live true life, live BY AND FOR GOD.
DO NOT FEAR, DO NOT FEAR, DO NOT FEAR!
YOU ARE THE APPLE OF GOD'S EYES.
BE STRONG, PEOPLE OF GOD!
WHO IS LIKE GOD?
THERE IS NONE LIKE GOD.
Saint Michael the Archangel
HAIL MARY MOST PURE, CONCEIVED WITHOUT SIN
HAIL MARY MOST PURE, CONCEIVED WITHOUT SIN
HAIL MARY MOST PURE, CONCEIVED WITHOUT SIN
COMMENTARY BY LUZ DE MARIA
Brothers and Sisters:
We are a People who walk, but we are not walking on quicksand.
We are a People who desire Eternal salvation.
We are a People with a Mother and She loves us.
Through His Teachings Saint Michael the Archangel leads us to meditate and to not turn away from THE WAY, THE TRUTH AND THE LIFE (cf. Jn 14:6).
While it is true that we carry a cross in the likeness of our beloved Lord Jesus Christ, let us keep in mind that this Cross is one of Glory and Majesty and therefore we should not falter.
We are a People who walk, but it is necessary to maintain humility and an attitude of service so that each person would be a laborer in the vast Field of the Lord.
Amen.
MESSAGE FROM OUR LORD JESUS CHRIST
TO HIS BELOVED DAUGHTER LUZ DE MARÍA
JANUARY 12, 2020
My Beloved People:
I LOVE YOU WITH ETERNAL LOVE.
My Beloved, devoting human time to calculating the date of the fulfillment of My Revelations and those of My Blessed Mother is the result of the impatience of man and not of Faith.
Everything that I have revealed to you, that My Mother has revealed to you, that My Beloved Saint Michael the Archangel has revealed to you, EVERYTHING WILL BE BROUGHT TO FULFILLMENT.
ARE YOU ASKING YOURSELVES HOW YOU ARE SPIRITUALLY?
HOW MANY RAGS HAVE YOU LEFT ALONG THE WAY? RAGS OF THE HUMAN EGO THAT TAKES PRECEDENCE OVER MY REQUESTS, PREVAILING OVER LOVING ME AS YOU SHOULD.
My people, there are so many signs at this moment and you are so blind that subsequent laments will be heard throughout Creation.
Come back to Me urgently: you are living so far from Me! Blinded by what does not concern you, you broaden your daily lives with a multitude of obligations that are not yours as you are carrying foreign crosses, without properly carrying what applies to you, and due to this the weight bows you down.
BE AWARE THAT IN ORDER TO LOVE ME YOU HAVE TO KNOW ME IN MY WORD, IN PERSONAL RELATIONSHIP INSTANT BY INSTANT, IN RECEIVING ME IN THE EUCHARIST, IN BEING "ALONE WITH ME", IN PEACE AND LOVE FOR YOUR FELLOW MEN.
My Beloved People: you need FAITH, like "a mustard seed" (cf. Lk 17:6) so that you do not despair while waiting. You need to strengthen your spirit and promptly, not leaving for tomorrow anything that has to do with the salvation of the soul – tomorrow belongs to Me.
My people, pay attention: the Earth moves from its axis and will continue to do so; the waters of the seas will invade a large part of the coasts and inexplicable phenomena will occur in the water; the whole earth shakes at the relentless sun, volcanoes erupt and man does not pay attention, he tries to minimize what is happening and says that the wait is long; instead you ought to thank My Mother, who intercedes for humanity.
As the earth shakes, so shakes My Church, welcoming modernist trends that are not My Will. Looking at Me from afar, they try to cancel Me out in My own house, They will allocate Me a distant place and then deny that I AM ALIVE, PRESENT AND BEATING IN THE EUCHARIST, DENYING MY TRANSUBSTANTIATION; My Mother will be denied even more.
MY PEOPLE MUST BE STRONG, RESIST AND NOT LOSE FAITH.
They will hurl themselves against My Own and like wolves they will pursue them.
My people, persevere and do not forget that "I AM WITH YOU" (cf. Mt 28:20).
MY PEOPLE, IN THE CALAMITIES, IN THE ONSLAUGHTS OF NATURE, IN THE PERSECUTIONS, IN THE CALUMNIES, IN THE INSULTS, AND WHEN THEY TURN YOU AWAY FROM SOME PLACES, DO NOT FORGET THAT "OUR MOST HOLY TRINITY IS WITH YOU AND MY PEOPLE WILL NOT SUFFER FOR EVER".
My beloved people, threats among the nations will continue, deaths will continue, terrorist acts will continue; man is mounting in his eagerness for revenge, one side and another will mortally wound each other on repeated occasions.
MY PEOPLE, MY INNOCENT CHILDREN WILL NOT SUFFER WHAT THE MAJORITY WILL SUFFER, I WILL PROTECT THEM.
Gather in groups, whether family groups or ones of prayer and of firm friendships, and ready yourselves to prepare places where you will be able to stay united in times of strong persecution or war. Store what is essential in order so you can stay there until My Angels let you know. These REFUGES will be protected against invasion; remember that in union there is strength: if one weakens in the Faith, another will lift him up, if one becomes sick, another brother will assist him, IN UNITY.
Wait in FAITH, so that the latter, fortified, would prepare you for when you are persecuted.
My Beloved People, I guide you by the hand, I AM YOUR FATHER AND I WILL NOT LEAVE YOU ALONE.
I AM WHO I AM (cf. Ex 3:14; Jn 8:58; 4:26), DO NOT DESPAIR. MY PEACE IS IN EACH ONE OF YOU.
I love you, I bless you, my faithful.
Your Jesus
HAIL MARY MOST PURE, CONCEIVED WITHOUT SIN
HAIL MARY MOST PURE, CONCEIVED WITHOUT SIN
HAIL MARY MOST PURE, CONCEIVED WITHOUT SIN
COMMENTARY BY LUZ DE MARÍA
Brothers and Sisters:
We are at a time when we must increase our Faith in a SINGLE AND ONLY GOD, THE LORD OF HEAVENS AND EARTH.
How were the first Christians distinguished: by LOVE.
Do we see this at the moment?
Brothers and sisters, more than at other instants, we have to maintain peace, solidarity, hope, charity, and not lose faith.
Let us not wait for tomorrow: as our Lord Jesus Christ tells us, let us do good today: let us not wait, since our life has an owner and only He knows which day will be our last.
Amen.
MESSAGE FROM SAINT MICHAEL THE ARCHANGEL
TO LUZ DE MARIA
JANUARY 5, 2020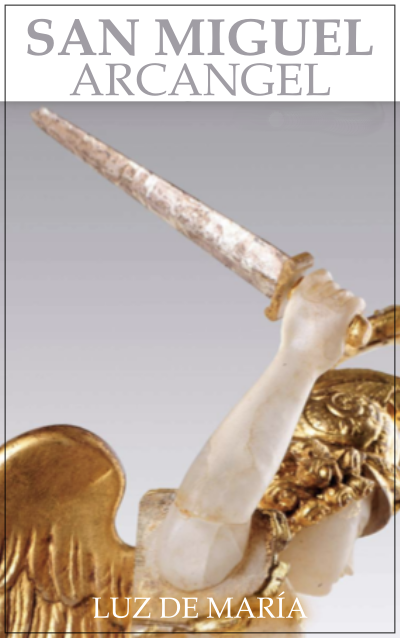 People of God:
The Love of Our King and Lord Jesus Christ for His children is infinite, just as His Mercy is infinite and infinite His Justice.
IN CELEBRATING THE LORD'S EPIPHANY, IT IS NECESSARY FOR YOU TO OFFER YOURSELVES A GIFT: THAT OF PEACE AND UNITY, SO THAT AS THE PEOPLE OF GOD YOU RESIST.
WHAT DOES MAN SEE INSIDE HIMSELF? THE TARES THAT HAVE GROWN WITHIN?
Rebellion against the Most Holy Trinity leads man astray, causing him to usurp what is not his.
You have see your brothers plundering the Churches, desecrating Our King present in the Eucharist! In similar fashion the same men will plunder what lies in their path during times of famine.
You have not yet experienced the cruelty of the passage of men's darkness over the Earth; they will be like birds of prey, the catastrophe of this generation: man against man.
People of God, BE ATTENTIVE, eagles fly high and spot their prey from on high, but they do not always attain their goal. BE ATTENTIVE, PEOPLE OF GOD, THE SYMBOL OF LIBERTY WILL FALL, A PRESAGE OF WHAT WILL HAPPEN TO THAT GREAT NATION. It will rise from its own ashes and this nation will be new after being purified.
Men will emigrate in search of security, which will be difficult for them to find when world power is being disputed among nations.
People of God, I therefore call you to make amends, each person individually and then united. ONLY IN UNITY WILL YOU AVOID THE HORRORS OF WHAT STANDS BEFORE HUMANITY.
The human being will learn from its own suffering, only that it will not then recover, but will have to start with an earth in ruins, and beg that Manna be sent from Above in order to survive.
Do not be skeptical: appeal to Divine Mercy so that in the instants of pain, Our King and Lord Jesus Christ and Our Mother and Queen come hastily.
 Pray, you must pray, you must be creatures who pray with your heart, powers and senses, fused to the SACRED HEARTS, AND THEN LIVE OUT THE PRACTICE OF PRAYER IN YOUR PERSONAL LIFE AND IN OFFERING THE FRUIT OF PRAYER TO YOUR FELLOW MEN.
People of God, it is urgent that you PRAY FOR WORLD PEACE: THE THREAD HAS BEEN BROKEN AND THE ADVANCE OF THE TEMPEST WILL NOT ABATE, BUT THE PEOPLE OF GOD PRAY AND OFFER UP WITHOUT FALTERING.
SEE THE ADVANCE OF SATAN IN FAMILIES: SEE HOW PARENTS AND CHILDREN STRUGGLE. THE GREAT MAJORITY OF CENTRES OF STUDY HAVE DECAYED MORALLY, WORKPLACES ARE BATTLEFIELDS, COMMUNITIES ARE FLOODED BY JEALOUSY, AND WHAT OF MAN WITHIN HIMSELF?
Make reparation in the face of so much disobedience, envy, pride, harmful appearances, and be the opposite of the world: be Love and fulfill the Beatitudes (cf. Mt 5:3-12).
It is urgent that the People of Our King and Lord Jesus Christ be prepared in order not to stumble; the Helm of the Church of Our King and Lord suffers. Rome will be attacked.
People of God, the Earth moves violently from within, great earthquakes occur on the surface, and it is therefore necessary FOR YOU TO PREPARE NOW IN ORDER TO ASSIST YOUR BROTHERS AND SISTERS.
THE EARTH SHAKES FORCEFULLY IN THE MIDST OF MAN'S THREATS AGAINST MAN, IN THE MIDST OF THE FIGHTING OF THE NATIONS.
Time is not time and it has reached humanity. Prophecies are fulfilled one by one and … you need to maintain inner peace so that evil does not take hold of you and prey on you. IT IS THE MOMENT FOR FORGIVENESS, FOR REPENTANCE, FOR LIVING DIVINE LOVE WITHIN EACH PERSON: DO NOT BE INDIFFERENT!
WE THE HEAVENLY ARMIES ACCOMPANY THE PEOPLE OF GOD IN THEIR TRIALS. WE REMAIN NEAR TO EACH PERSON: DO NOT FEAR, SOW PEACE IN HEARTS, HAVE A CLEAN MIND, THINK WITH PERSERVERANCE IN FAITH, BE CREATURES OF PEACE.
CONSECRATE YOURSELVES TO THE SACRED HEARTS AND REMAIN FAITHFUL TO THE TRADITION OF THE CHURCH.
I bless you.
WHO IS LIKE GOD?
THERE IS NONE LIKE GOD!
Saint Michael the Archangel
HAIL MARY MOST PURE, CONCEIVED WITHOUT SIN
HAIL MARY MOST PURE, CONCEIVED WITHOUT SIN
HAIL MARY MOST PURE, CONCEIVED WITHOUT SIN
COMMENTARY BY LUZ DE MARIA
Brothers and Sisters:
Our beloved Saint Michael the Archangel repeats the blessing that we continually receive from Heaven: all of Heaven watches us in moments when what has been prophesied is being fulfilled.
We need the weapons of faith, of peace, unity, sincerity, patience, hope and charity among all others.
Let us be adorers of the Blessed Sacrament at all times, wherever we find ourselves, so that peace would does not abandon us, and let us pray to our Protectors and Travelling Companions, to the Celestial Legions, that they protect us.
Amen.
[Return to www.spiritdaily.com]