---
"Bushfires are part and parcel of life in Australia, and always have been," wrote viewer  Stewart Davies from Sydney. "There have been throughout the era of European settlement bushfires covering vast areas and persisting for a number of weeks, but in former times, the firefighting capabilities that we have now did not exist.
"But even in the weeks before Christmas, it became apparent that the current situation is way beyond the norm. And given the enduring drought gripping most of Eastern Australia and beyond, it was quite apparent that this current situation is something that we haven't experienced before.
"Considering the horrendous anti-life legislation that has been passed at both state and federal level in recent times (though Australia is hardly unique in this regard),  I expressed my 'gut feeling' that: 'our chastisements have really begun.' I recalled the first secret of Medjugorje; that 'something will happen in a region of the world, and at first, people will not understand the significance of it.'
"Well, of course, everywhere on earth is 'a region of the world,' and at this point, the meaning of this prophetic warning is unknown to us. But I did ponder if this current bushfire situation in Australia could be the foretold event. The chilling photograph of a sinister countenance in the fire and smoke in East Gippsland may just be a coincidence. On the other hand; I now wonder all the more! Be not afraid!"
An alleged seer, Valentina Papagna, about whom we have had a special report, received "messages" in December regarding the situation (which had already erupted by then).
+
"Jesus wants this nation of Australia to come to Him and repent
"During my morning prayers, I offered the whole of Australia to our Lord, especially because of the ongoing drought, the devastating bushfires, and thick smoke blanketing many cities and towns.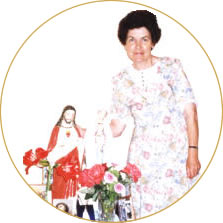 "I lamented, 'Lord, it looks like You have deserted us! This weather that we are experiencing is unbearable. People are dying and losing their homes, and it's not their fault. Lord, when are You going to do something about it?'
"Both our Lord Jesus and Blessed Mother appeared, and they said to me, 'My daughter, we heard your plea and prayers. We don't abandon people, even when they go through the hardest period of suffering.
"Blessed Mother said, 'See, what sin causes. The sin of mankind leaves behind consequences. It affects the whole country, all of the people. This drought represents sin. Nature is so dry and thirsty, just like the souls of mankind are dry and thirsty because there is no God in their lives.'
"'My Son is waiting for people to turn to Him and to ask for His Mercy. He is willing to forgive, but hardly any people plead to Him for His Mercy. He is willing to change things for the better, but people will then never learn from their mistakes, they need to acknowledge that they sin against God.'
"Our Blessed Mother is very concerned for her children. She said, 'Soon, you will hardly have any water left, and people should be worried. Instead, they do not care and just continue with their shopping and seeking material things. My Son is waiting for people to repent of their grave sins. He is waiting for people to say:
"'Lord, we have greatly sinned against You,
'Please have mercy on us and
'Forgive us our wrongdoing and
'Forgive us for being so disobedient."
"He will then open Heaven and pour abundant water upon this dry country. My Son, Jesus, wants this nation of Australia to come to Him and repent. Only God can give life to the full.'
"Jesus said, 'Do not be discouraged, do not despair, do not give up. There is hope that I will change things for the better.'
"Blessed Mother said, 'Because migrants have brought so many different religions to this country, people have abandoned Christianity. My children do not abandon prayer, especially the Rosary and the Divine Mercy Chaplet. Through prayer, my Son can touch the souls of non-believers.'"
Added David Catanzariti: "I am forwarding a link to a news article relating to the continuing
bushfire crisis
in Australia.
It is interesting to note that the two worst affected States, New South Wales and Victoria, have in recent times, both passed controversial legislation in relation to decriminalising abortion and legalising euthanasia respectively. A coincidence?"