---
Well, which is it?
As a newspaper recounted last week, "At roughly 8:15 p.m. Tuesday, a meteor ripped through the sky, shaking houses and windows across metro Detroit. People reported seeing it as far as Illinois, Pennsylvania, Ohio, Indiana, Missouri and Ontario, Canada." 
But here's the issue: Less than a month before the fireball, a Pentecostal-style pastor in the Detroit area (South Rockwood and Rockwood) shared a vatic "word of knowledge."
"I had a dream that a meteor was coming to the Great Lakes and it was gonna hit Michigan," Pastor Rick Satterfield, 59, with I Am Church, said in a video dated Dec. 31, 2017. "It would cause Ohio and Canada to feel the impact of it" but not hurt anything.
He also was "told," in line with the supposed meteor prediction — he avers — that "there would be a revival that starts here and spreads across the planet,"  a "jubilee day," bringing together people of all religions and backgrounds.
Now, that's good news. What many would take as an ominous sign — not just a fireball, but one causing a felt quake! — had the opposite meaning. Satterfield told the Detroit Free Press that it was a sign positively rosy things were in store for the region. 
"It's a great day — it's a great time, it's not gloom and doom," said this minister, who operates a tiny church of about two hundred. "I'm going to bless people in (this) region, restore them," he thinks he heard the Lord say.
That blessing would be "financially, physically, and mentally."
If true, good news indeed. And signs in the sky and elsewhere through nature can be good tidings. (The Star of Bethlehem was an obvious example.)
But usually, they are darker portents; there was the sign of that quake tearing of the Temple curtain as Jesus expired. Perhaps we can say, good or bad, or a combination of good and bad, that they can speak of something consequential.
The Lord Himself had said signs in nature would announce a judgment on Israel…
Satterfield's message was curious first because, economically, last week was not the best week for Detroit: While like the rest of the country there is an economic uptick, even a surge, it was announced that the area had been dropped from consideration by gigantic Amazon to location of a second headquarters there — not the best news for a chronically depressed region. Maybe other, even bigger good things are in store…
Secondly, it was curious in that another Evangelical-style preacher, this time Anne Graham Lotz, daughter of famed evangelist Billy — who himself was a bit of a "fire-and-brimstone" fellow — told Decision Magazine God currently is trying to rouse humanity's attention through the "exhausting run of natural disasters, violence and even the natural phenomenon of the total solar eclipse last August that made a path across the entire continental United States—a phenomenon that some Jewish rabbis considered a Divine warning to a secular nation." 
Lotz believes "severe judgment is coming and has partly begun. And I'm talking about something like a nuclear strike, an earthquake that splits us in two, an electromagnetic pulse attack that devastates our electrical grid. Something major that would be a game-changer for America, because we are so defiant and rebellious and idolatrous and immoral, and we know better."
So which is it? Lotz or Satterfield?
Or neither?
In yet another religious outlet, the Christian Post, this week, was the near-death experience of one Alec Rex of New Zealand.
According to the report: 
"During his near-death experience at the gates of hell, Alec says that Jesus also told him a worldwide revival is coming that will be greater than Azusa Street or the Welsh revival. There will not be anything like it, Jesus told him. 'It is not just people getting saved,' Alec adds. 'It is the bride being made perfect, without spot or blemish.' The Lord communicated to him, 'What the world deems insignificant is what I am going to use in this revival.'"
Obviously, Protestant lingo and prophecy.
Here's another recent (1/9/18) prophetic "word," this one anonymous, this one, more in our keeping, Catholic (for discernment). The "word" is "spoken here," it says, "because the times turn into a new pace and the atmosphere, so thick with discord, will blur into a fog — a fog of unknowing but believing one knows; a time of shrinking when one believes he is growing; a time of dishonor where the movements of the world believe they are bringing dignity. Woe to those who perceive with the eyes of the world, including in a Church that too often, but for the Consecration, is brick and mortar — empty spaces filled with sermons of no consequence, in a time when people need as never the food of the Spirit. Woe, to those who preach from the head and forget that it is in the heart that goodness is germinated and that there is the true connection to Heaven. For upon death, as the brain withers, the heart recognizes its own… Not until the Church sees again with the eyes of Jesus and Heaven will it be able to fully withstand the onslaught that like a tide approaches all of mankind."
Okay, we believe many of those same points.
But that doesn't make it legitimate.
It makes it simply fodder for cogitation.
And so mull it over — while watching the sky, and listening for quakes — we will.
[resources: special On the Brink and Fear of Fire and Baton Rouge retreat: prophecy, afterlife]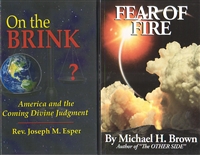 [Feedback: "I would like to share this with you: This morning before Mass I was praying the Rosary for all those who no longer practice their faith, especially for two of my (adult) children. Then as I looked up at the tabernacle, I saw a vision on the door of the tabernacle of a person looking towards the horizon as the sun was coming up. I then received these words, 'A new day is dawning.' This made me think of a time about 6 or 7 years ago when I was again in church before Mass praying the Rosary for my oldest daughter (who no longer practices her faith). I was pleading with the Blessed Mother to help my daughter when I clearly heard these words, 'A new springtime is coming. He will renew the face of the earth.' But the way that the world is now (with many living as God does not even exist), I feel that there has to be some kind of wake up call that will shake the earth to its foundation in order for conversion to occur" — Harry Frett.