From the Christian Post:
BEVERLY HILLS — During a recent interview for Sony Pictures Animation's Christmas film, "The Star," actress Gina Rodriguez said she believes God put this role in her path just as He did with her hit TV series, "Jane the Virgin."
"If we're going to talk about faith, I definitely believe God put all of this in my path," Rodriguez told The Christian Post. "Because to be able to play Jane the Virgin and then to have this opportunity."
Rodriguez' role in "Jane the Virgin" draws from the biblical storyline of the immaculate conception and the virtue of saving one's virginity for marriage with a twist so that it can reach the telenovela audience. Although it's not a Christian show, the actress said she sees a pattern in the roles God has given her to play.
[Return to www.spiritdaily.com]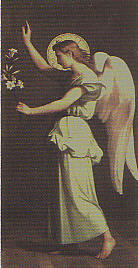 Pray always for purity and love
+++