---
Are they real? Angelic presences, in cell photos, on security cameras? Or effects of light?
A combination?
Always, of course, the chance of fraud. In fact, in the last video here, at least two of the sequences seem staged; in another, perhaps too much detail. In other cases, clouds are just that: clouds.
But all of them? 
The videos in a moment. First, a still photo. They say — or at least one secular site does — that this can't be real because Mary too closely resembles a statue (taken of a dying man):
There are such things as reflections, and this looks like a statue out of view may be reflecting on a glass partition, if partition there was — though the fellow dramatically improved immediately after the photo was shot, according to the site. ("The photo was taken with a mobile phone by the grandson thinking that this was the last he might see of him. Then there is news of the man's miraculous recovery. It was a week later until the photo was retrieved and shared.")
Anyway, a few videos. You view. 
And also: you discern. 
[Return to www.spiritdaily.com]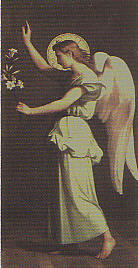 Pray always for purity and love
+++
---
Please report any inappropriate ads or content