---
From Associated Press:
Pope Francis has added two Portuguese shepherd children to the roster of Catholic saints, honoring young siblings whose visions of the Virgin Mary 100 years ago turned the sleepy Portuguese farm town of Fatima into one of the world's most important Catholic shrines.
Francis proclaimed Francisco and Jacinta Marto saints at the start of Mass on Saturday marking the centenary of their visions. Hundreds of thousands of pilgrims were on hand, many of whom had spent days at Fatima in quiet prayer, reciting rosaries before a statue of the Madonna. They clapped in admiration after the pope recited the rite declaring the Martos saints.
The siblings and their cousin, Lucia, reported that on March 13, 1917, the Virgin Mary appeared to them while they grazed their sheep. They said she confided in them three secrets – foretelling apocalyptic visions of hell, war, communism and the death of a pope – and urged them to pray for peace and a conversion away from sin.
From CTV:
From Associated Press:
FATIMA, Portugal (AP) — Pope Francis urged Catholics on Friday to "tear down all walls" and spread peace as he traveled to this Portuguese shrine town to mark the 100th anniversary of one of the most unique events of the 20th-century Catholic Church: the visions of the Virgin Mary reported by three illiterate shepherd children and the "secrets" she told them.
Thousands of pilgrims lined Francis' motorcade route and tossed flower petals, evidence that Latin America's first pope has a huge following in this largely Catholic country. Cheers of "Viva o papa!" – "Long live the pope" – erupted when Francis pulled into Fatima's main square, which had been doused by heavy rains but was treated to a brilliant warm sun by the time he arrived.
Thousands of pilgrims, waving flags from as far as Venezuela, Argentina and Cuba, braved a steady cold rain Friday as they waited for him, many spending the night outdoors to make sure they had a good spot.
Over the past several days, church groups, families and individuals have made their way to Fatima, about 150 kilometers (90 miles) north of Lisbon, some completing the final leg of the pilgrimage on their knees in prayer.
Carrying candles, rosaries and roses, they have made their way to the statue dedicated to Our Lady of Fatima or tossed wax body parts – ears, hearts, limbs – into a huge fire to pray for healing.
From World Apostolate of Fatima:
Father Francisco Pereira, chaplain at the Shrine in Fatima, spoke with Barb Ernster about preparations for the Fatima centennial and the message in the third millennium.
How many pilgrims do you anticipate on May 13?
This year we have more pilgrims than previous years, even in winter time. And we have more pilgrim groups signed up to participate in the celebrations, and not only on May 13, but also on the other days. And we have an increasing number of pilgrims from Asia, especially from South Korea, from North and South America and from Western European countries.
We, the Shrine of Fatima and the civil authorities, are preparing procedures for the presence in Fatima of 800,000 persons for the International Pilgrimage of May 12 and 13, knowing that the capacity of the Prayer Square is 300,000 and not everyone will be at the square but spread through the streets around the shrine. That is why we are planning to have big screens outside the square to enable all the people to participate in the liturgical celebrations.
[Return to www.spiritdaily.com]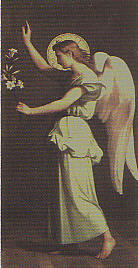 Pray always for purity and love
+++