---
The Connaught Telegraph reports that pilgrims will depart Mayo in Ireland for New York Monday on "a very unusual mission" — the reburial of one of the visionaries to the Knock Apparition in 1879.
Later this week — the same week that Fatima will dominate the news — remains of the youngest Knock seer, John Curry, will be removed from a grave on Long Island and relocated to St. Patrick's Old Cathedral in Manhattan. Curry can be seen in the photo above of two men (he's on the right).
A tender five years old in 1879, Curry emigrated to the U.S. in 1897, living "a very devout life up to his death in 1943 attending Mass daily."
The move was made by Cardinal Timothy Dolan when a parish priest from Knock commented to him that few visited the obscure grave. That was when Cardinal Dolan decided on St. Patrick's Old Cathedral [left].
The church is in Manhattan's Little Italy on Mulberry Street between Prince and Houston streets, with an entrance on Mott.
Below is exterior church wall at Knock in County Mayo where a "tableau" of Mary, Joseph, John the Baptist, and a Lamb were seen like a living picture. No words were spoken and thus no message bequeathed. It was witnessed by fifteen people and is a rare apparition of Saint Joseph — who ironically also appeared, and also silently, at Fatima during the final major apparition in 1917.
http://www.marypages.com/Knock.htm
[Return to www.spiritdaily.com]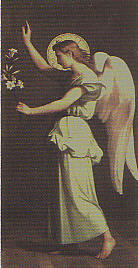 Pray always for purity and love
+++