---

As periodically we do, it is perhaps opportune to discuss "ghosts," "hauntings," "spirits," and the like — for they are regularly, even constantly, in the news. 
A subject once relegated to fringe media, hauntings are a staple now of the mainstream: in print, cyberspace, radio, or TV.
The explosion in cell cameras and on-line videos (see: Youtube) has propelled a tremendous array of such accounts, some no doubt fraudulent, but many bearing the signature of classic "ghostly" circumstances — with real people who, to convey the kind of sincere fear they often do, would have to equal or exceed acting in Hollywood.
Not everything is to be pooh-poohed — but likewise, neither is it to be embraced, holus bolus.
And never should the Catholic seek to be scared, nor let fright take hold — whether by watching a Stephen King movie or visiting a place said to have a ghost, for in many legitimate hauntings, the entity is actually a deceptive spirit — demonic — or a deceased soul that is earthbound and negative (what the Church once called "revenants").
As occasionally we have pointed out, the existence of such
phenomena is obvious even in Scripture:
"And I will confound their strategy, so that they will resort to idols and ghosts of the dead and to mediums and spiritists," warned Isaiah 19:3.
"When the disciples saw Him walking on the sea, they were terrified, and said, 'It is a ghost!'" adds Matthew 14:26 (for the skeptical out there).
Caution is in order, for such spirits can have a powerfully negative effect, seeking to attach themselves and drain the living, sometimes causing illness, as well as psychological effects, or simply drawing pleasure from harassing us. (Jesus cast out both demonic and "unclean" spirits when He healed folks.) 
How positive would a ghost in the boyhood home of — say — famed serial killer Ted Bundy be?
Yet, precisely this is one item in the news of late.
"Ted Bundy is arguably one of the most notorious serial killers America ever produced, and now a contractor who recently remodeled his childhood home in Washington state says that the process was full of creepy occurrences," reports the Inquisitr, actually drawing its facts from a London tabloid, as one example of such items in the mainstream.
"According to contractor Casey Clopton, the house shared by a young Ted Bundy, his mother, stepfather, and siblings was home to mysterious ghostly writing, toppling furniture, and other strange happenings while he and his crew got it ready to be 'flipped' last year."
(If true, one is led to ask whether the culprit is Bundy himself, now earthbound, or a spirit that has long resided there or in his family line — responsible, for all we know, for the evil that infested Bundy to begin with.)
This is why we never judge. (And also why it's supremely risky to seek a conversation with a possible entity.)
Prayer need, here. 
In Nottinghamshire, England, "A dad claims to have snapped the face of a witch killed in 1647 for making a pact with the Devil – after her ghost spoke to him through a haunted tree," reported Yahoo.
A seminary is even in the news, in this way.
The Sedamsville rectory in Cincinnati is so haunted — allegedly — that it's been featured on the Travel Channel's "Ghost Adventures" and "Ghost Adventures: Aftershocks,"  SyFy Channel's "Haunted Collector," and the Biography Channel's "My Ghost Story" (foolhardy shows because, in raising or attempting contact with the "dead," they are, as emphasized, playing with fire). 
The 120-year-old rectory is one of four buildings once belonging to Our Lady of Perpetual Help and (spooky attic staircase and all) was voted the most popular episode for a Travel Channel Halloween Marathon. 
Residents of the rectory ranged from Father Donald MacLeod — a world-renowned author — to a priest who was an admitted child molester. 
There are strange lights. Visitors are shoved by unseen hands. Or scratched. (Not exactly signs of Casper.) 
When the parish closed, it was stripped of its sacred items and the building was sold, which surely doesn't help matters. 
Acknowledged the network: "After touring the rectory and hearing stories of a dark, demonic force from the owners of the building, the guys call in reinforcements, inviting Father Ashcraft – a local priest – back to the rectory to perform an exorcism." 
(The original church bells and organ were installed at Holy Family as were the icons, originally and ironically given to Our Lady in 1887 by Pope Leo XIII — who devised a version of the famous St. Michael prayer — and warned of rising evil in our time.)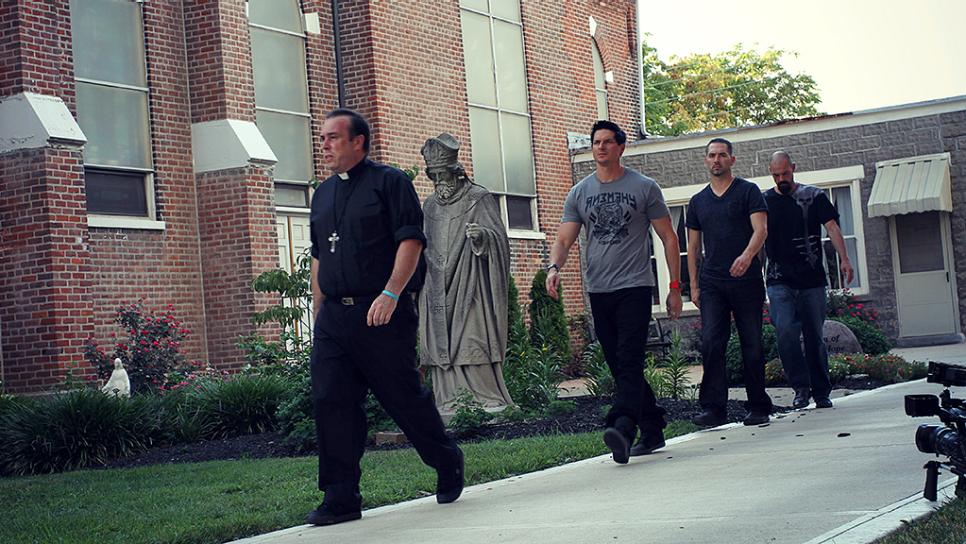 In other cases: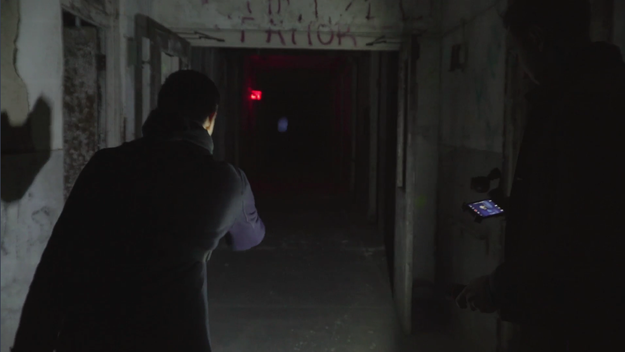 "Kirsty Lee was left in hysterics after she says she found her screaming son Kyran being dragged along the floor by an invisible entity," states a newspaper in the UK (where hauntings are pretty common, it seems — a product of age, as well as tabloid press).
In Kentucky, ghost-hunters threw a ball down a hall in an abandoned hospital and a mortuary that's supposedly haunted by a little boy named Timmy who liked to play with a little blue ball. (The ball never came back, "but something even weirder happened. [Ghost-hunters] Ryan and Shane heard the ball bounce a few extra times and… they found the ball in a room down the hall sitting under the name 'Ryan' that had been tagged on a wall.") 
In our time, such accounts are legion.
Was a ghostly face spotted — and of course photographed — in a lamp post at the building in Salem, Massachusetts, where witchcraft trials occurred? "Salem mayor Kim Driscoll shared a photo on Twitter of a lamppost outside a courthouse, in which an 'eerie' ghost allegedly appears," we're informed.
And what about the autistic boy who snapped this photo from a plane window? Newspapers said it was his guardian angel.
If real, it does not seem so angelic. 
We'll report. You discern. 
Some are no doubt fake — pictures and videos, which through the new and rampant and overused technology can be staged. That's for certain.
But also no doubt: some remains the realm of the unexplained.
[resources: The Spirits Around Us and Michael Brown retreat, New Jersey!]