---
The other day we took a long ride to snorkel at John Pennekamp Coral Reef State Park off Key Largo in Florida. One highlight we looked forward to, in addition to wildlife viewing: looking into those azure waters and seeing a statue of Jesus Arms upraised that's submerged there six miles from shore.
They call it "Christ of the Deep" or "Abyss."
It was a special feeling to be in it's vicinity, and while our guide grumbled that folks shouldn't spend as much time as they do trying to find it — that they should spend more time "not with some statue, but looking at the fish at the beautiful reef, God's Creation itself," as he bluntly and rather impolitely put it — we all know why it's crucial to acknowledge the Son as well as the Father, and that statues help us do just that.
The story is simple: Christ of the Abyss is an eight-and-a-half foot, 4,000-pound bronze sculpture, one of three cast from a mold by an Italian sculptor, that stands in twenty-five feet of water and was owned by a dive-equipment manufacturer named Egidi Cressi. It was donated to the park in 1965. 
The donation was to recognize the state's conservation efforts in creating America's first underwater park.
This was back in the days before the environment — and preserving what God made — became a ridiculous political football. It was also back when folks still looked upon God's Creation as worth conservation.
The statue is one of the most famous and visited underwater sites on earth, surrounded by groove coral formations, sand, and the occasional stingray. Another was placed in the Mediterranean.
There are still beautiful fish in these parts, but pollution and changes in weather have caused degradation of the reef and have put it in danger of dying. The Lord can't be happy about that.
But there He is, encrusted with barnacles, Arms upstretched. When divers and snorkelers do spot it, they can swim down eighteen feet and touch His Fingertips. Hundreds of divers have been married down there! 
Does He — Christ of the Deep — ward off storms?
The area has basically been spared since the statue was placed there, as have the rest of the keys (despite a history of devastation from hurricanes). A shrine in Key West [left], built for the express purpose of such protection, also helps, no doubt. We visited that eleven years ago.
Several islands down from Largo is Islamorada, which in 1935 incurred the most powerful hurricane ever recorded in the continental U.S. — with a terrifying barometric pressure of 892, compared to 902 for
Katrina and 922 for "Andrew" (the lower the pressure, the more potent). The ocean washed across the entire island, killing hundreds. Winds were  up to 184 miles per hour! (Some say 200.) The storm surge was twenty feet. It carried a train right off its tracks.
Ah, storms.
More on this shortly.
But here near Key Largo, Christ down there, reaching up to us all, guarding not just the shores but the Creation below the cyan blue waves that, countless eons ago, God so splendidly made.
–M. H. Brown
[Return to www.spiritdaily.com]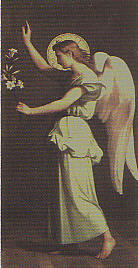 Pray always for purity and love
+++