---
This isn't a sports story, though we'll start it that way.
Many of you have heard of him, certainly if you live in the great state of Louisiana:
"Pistol Pete" Maravich, who played at Louisiana State University, and who some say was the best-ever player in college and perhaps all of basketball, for that matter. He scored — averaged — 44 points per game during his varsity years, a record that may always stand. He once scored sixty-eight points in a pro game.
Incredibly, scoring — shooting the ball — wasn't his greatest strength. He worked outright magic as a passer and dribbler, as a ball handler, at times seeming to make the ball disappear or passing to a team-mate it didn't seem he could possibly see. Pete could spin a ball and bounce it off his head and into the hoop. This was a fellow who practiced nonstop: ten or more hours a day, even dribbling out a window as a car slowly took him around, or handling the ball blindfolded.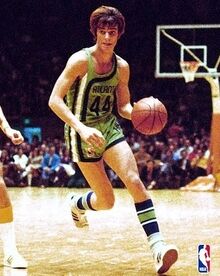 He stood 6'5″, was of Serbian heritage (his father ended up coaching him), and his drooping socks and flopping locks — his mop of hair, framing a skinny, grimacing face, as he worked hardcourt magic — are etched into many a memory. Pete Maravich, born in 1948, was a star from since he could remember, making his high-school varsity at age twelve.
But we mention him here because of what occurred at the end of his life.
Though many may know he attended LSU, or that he played for the New Orleans Jazz (and later the famous Celtics), and that with the right break and coaching he probably would have been the best of all time (other all-stars openly said they couldn't believe the moves he could make), far fewer know that Maravich ended up more dedicated and devoted to and energized by Christianity than he ever had been by basketball.
That happened in 1982, two years after his retirement.
He'd been injured. He'd been traded. He'd been waived. He struggled with alcoholism, as had his mother (who committed suicide). He sought peace in everything from saloons and Transcendental Meditation to UFOs, often contemplating suicide (and driving his Porsche at more than a hundred miles per hour across Lake Pontchartrain).
"But," 
as a commentator said, "Pete Maravich was about to be released from his demons."
On September 20, 1982, in the depth of post-basketball-withdrawal depression, Maravich claimed that God spoke to him audibly. Something had caused him to toss and turn all night. He realized that all the worldly things he'd attained, all the fame, the money, championship rings, weren't bringing happiness — that trophies collected dust "because that's what they're meant to do."
"Lord, you'll have to save me," he cried out.  "I can't take it anymore. I've had it with what they say makes you happy."
"Nearing dawn, Pete was soaked in sweat," says an account. "Like a fever breaking, he saw his horrible sinfulness and dropped to his knees, making the foot of the bed his altar. Now he was ready to shoot straight with the Lord!"
Pete's soul sorrow gushed out, "God, I've punched You. I've kicked You. I've cursed You. I've used Your Name in vain. I've mocked You. I've embarrassed You. I've done all those things. Will You really forgive the things I've done?"
"I was ready to go off my bed, and God spoke to me," said the superstar during one public testimony.
"He spoke to me audibly and He said, 'Be strong and lift thine own heart,' and it reverberated throughout my room. I'll never forget it as long as I live — it was just like I'm speaking in this microphone. He wasn't in my spirit, He was outside."
It felt like the weight of the world lifted from Pistol's heavy heart. He woke his wife to see if she'd heard it. He later said, "When I took God into my heart, it was the first true happiness I ever had."
He never stopped speaking of it, and from that moment Maravich dedicated his life to the Lord, mystifying the players and fans and friends who knew him. "He [talked about it] from that day on for the rest of his life," notes biographer Wayne Federman.
"He was more devoted to that than anything I'd ever seen, basketball or anything," said his brother, Ronnie. "Faith is a testing," Pete would preach. "Faith is a preparation, that's why we're here. The only true joy is trusting."
He was always trying to convert somebody. He read the Bible for hours at a sitting.
On January 5, 1988, Maravich was ready to be interviewed for a Christian radio program. But first there were several pickup games at the First Church of the Nazarene gym. This was in Pasadena, California. Pete was enjoying himself immensely, back doing what he had so loved.
In between games, as Pete tossed practice shots and spoke with the man who was to interview him, Dr. James Dobson,
"I feel great. I just feel great," he told the famous Christian evangelist.
Dobson, of Focus on the Family, turned to walk away and for some reason glanced back and saw the still-relatively young Maravich (40) just in time to see him fall — hard, face to the wood. When they rushed up, his eyes were rolling. He was having a seizure — actually, a massive heart attack. It turned out he had a defect. They tried to keep his breathing passages open, but Maravich writhed once and was gone, dying in Reverend Dobson's arms.
Pistol Pete had found peace, on the biggest court, on the largest playing field, of all.