From Forums of the Virgin Mary [translated; opinion expressed are Forum's]:
With tattoo deactivation prayer.
Tattoos are not just skin decorations.
They talk about the psychological characteristics of our culture and who gets tattooed.
They are also the expressions of a spiritual choice.
And exorcists have discovered that they can be a portal allowing demonic attacks and possessions.
Here we will talk about what exorcists know about tattoos and their connection to demons.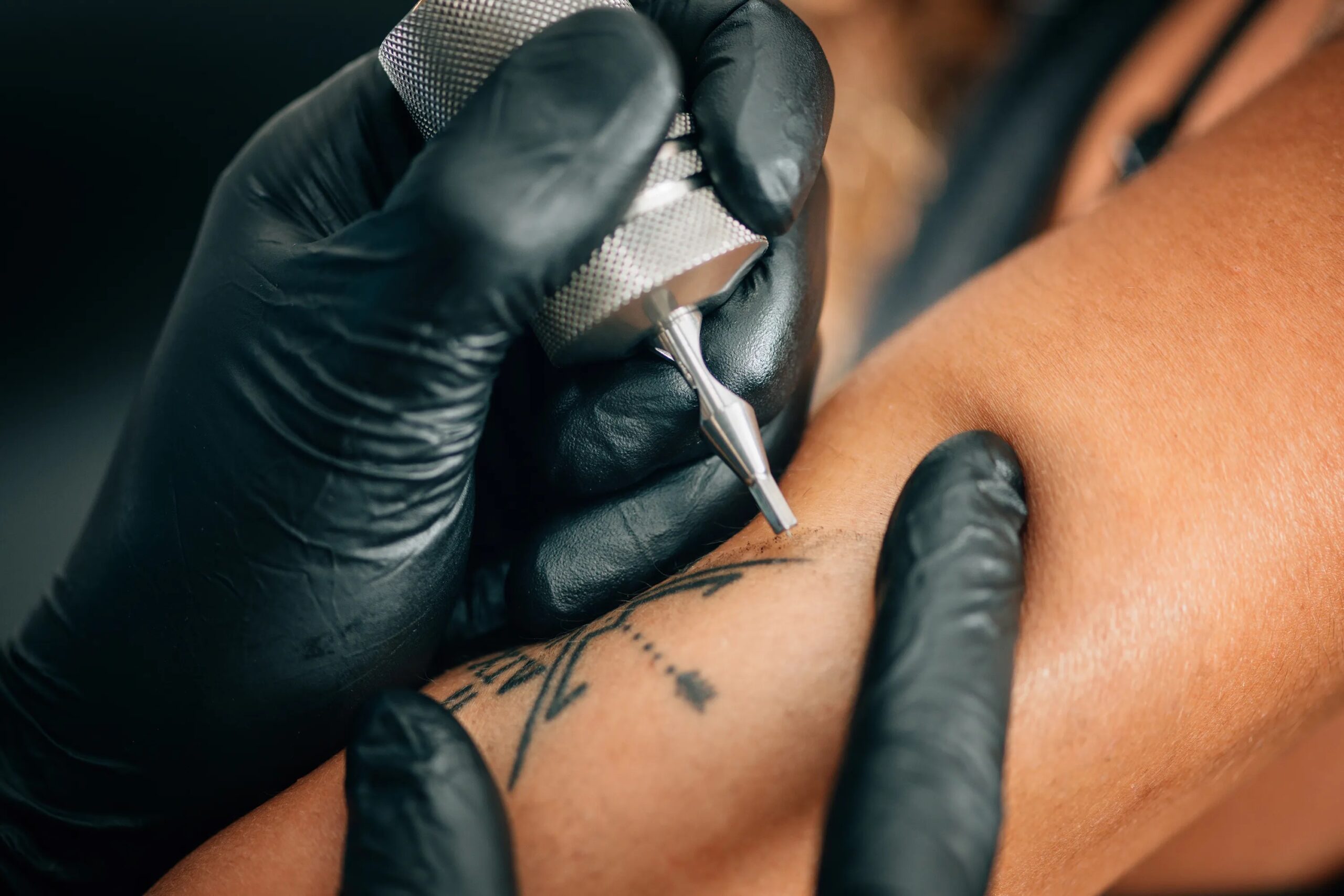 Historical research has confirmed that tattoos bear the hallmarks of demonism, Baal worship, shamanism, cannibalism, the occult, and many pagan beliefs and practices.
Tattooing is a magical rite in pagan cultures.
The tattoo artist in many pagan cultures is a sorcerer, a shaman, a "priest" — that is, an intermediary between the natural and the supernatural world.
They use magic to cure diseases, predict the future, and control spiritual forces.
And the tattoo was originally part of this.
The Bible for its part mentions tattoos only once, in Leviticus 19:28, where it says that "You should not put tattoo marks."
These days, of course, tattoos are much more accepted.
It wasn't until the late 20th century that tattoos became very popular. 
Before this, tattoos were seen as something for soldiers, criminals, bikers, and other "tough" characters.
Today they are a part of fashion, especially for young people.
Some argue that, like jewelry, a tattoo is an ornament. 
But jewelry can be quickly removed or changed, and a tattoo can't. 
Many people who have gotten a tattoo, often under pressure from their friends, later regret it.
But despite their immense popularity, tattoos have far from unanimous approval.
Many bosses do not want their employees and representatives to have tattoos, because they see them as a negative stigma for the image, which can prevent the person from having access to certain job opportunities.
Like it or not, this trend of self-mutilation has spread throughout the world and has a practical problem: it cannot be corrected in mature years, because removing tattoos is a long and painful process.
But also the tattooing process can cause infections through the needles, for example hepatitis.
But the spiritual question may be as important — or even more — because the tattoo means a carelessness about the dignity of the human body.
The obsessive adolescent desire for more tattoos can be indicative of psychological debilitation, or something more sinister.
Some psychiatrists think that the use of tattoos by normal people is a passive-aggressive way of compensating for low self-esteem.
And the truth is that while parents and employers frown on tattoos, knowing full well that they are marks of deviance and rebellion, it seems that the liberal media is promoting the trend, along with celebrities from the world of movies, music, and sports.
Exorcist Father Stephen Rossetti, who is also a psychologist, has found that tattoos can be a demonic portal.
He tells the story of a deacon who poured Holy Water on a woman's tattoo, and she howled, "It's burning me!" — when the water actually was cold! [scroll for more:]
Over and over again, he poured Holy Water over the tattoo while repeatedly reading a  "Tattoo Deactivation" prayer.
You can find this prayer in a link that I leave you in the description of this video.
Dislodging the demons from this woman took months of deliverance prayers, including the exorcism of this tattoo. 
The tattoo is now benign and the demons connected to it are gone.
But surprisingly, it was just a tattoo of some roses, though it turned into a huge demonic portal, leading to demonic possession.
That tattoo was connected to her past as a stripper and had sexual connotations.
At one point, some of the evil one's minions had attacked her and were trying to lure her back into the clubs and force her into the business again.
Several of them had demon tattoos on their bodies, including Baphomet and Aka Manah, who is a demon of sensual desire.
Fortunately, her parents came to the rescue and protected her.
Monsignor Rossetti has said that cases of demonic possession that occur through tattooing are common and he has had several cases.
The exorcist Father Gabriele Amorth also had similar evidence.
In an exorcism, the devil confessed to him the powerful influence he exerts on souls through tattoos, especially if they carry demonic symbology.
[scroll for more:]
And even religious tattoos are not something that pleases God.
Father Amorth also verified that during deliverance, possessed people who have tattoos feel a burning sensation in them.
And deliverance ministries also know that tattoos are related to oppressions, infestations, and demonic obsessions.
Father Rossetti warns of tattoos with demonic images outright, because the person joins that entity.
He says that when people put demons on their arms, it basically means, consciously or unconsciously, that they are saying, "I belong to this demon."
And once a person has joined with the demonic, it will be a hard fight to evict it; it can take months and years.
And even if the image doesn't represent something bad, if it's connected to sinful behaviors, as in the case of this young woman who had to be exorcised, it can be a big problem.
Additionally, some salons have been known to curse the ink or inscribe magical symbols within the images.
Some tattoos are spiritually benign, like flowers for example.
As mentioned. some people even get religious symbols tattooed on their bodies, Crucifixes and other holy images.
However, he recommends wearing a blessed Crucifix on a chain or lapel instead!
Or wear the Brown Scapular or the Miraculous Medal around the neck.
For his part, Father José Antonio Fortea, demonologist and exorcist, has said that "tattooing the body is not an offense to God."
Even in cases where the tattoo ink may have been, as some do, consecrated to the devil.
Although bad things, physical or spiritual, can happen to the person tattooed with ink consecrated to the devil, [the person is not condemned].
However, he specified that "young people must be reminded that the body is a work of God. And that it is one thing to put something on top of that body and another to carry out irreparable reforms on it," as is the case with a tattoo.
It is the fact of irreversibility that makes common sense wonder if it is the wise thing to do.
No matter how artistic or beautiful a tattoo may appear, skin in any of the colors and shades God bestowed on his children will always be that much more beautiful.
And he stressed that among very Christian people – of all confessions – there are hardly any tattoos because conscience warns that this is not appropriate.
And while it is true that some people have had the custom of getting tattoos, as a way of showing their ethnicity or religious affiliation, over time these customs end up being abandoned.
And he was very clear when he said, "if someone asks me if my judgment about tattoos changes if they tattoo faces of Jesus, the Virgin, Crucifixes, or similar things, the answer is 'no.'"
So there we have it. 
Because the human body is something divine and any irreversible intervention in the body must be really convenient and reasonable.
No matter how aesthetic a tattoo is, you have to remember that it is as if you were choosing a piece of clothing with the obligation to wear it until the last day of your life.
And the right reason indicates that it is not a good decision.
The witches also corroborate what the exorcists said.
Noted witch Laurie Cabot of Salem has said that "the origins of the tattoo come from ancient magical practices."
And  a former witch named Beth says one can't ignore the similarities the practice of tattooing has to the blood pacts of Satanism.
And that they are a gateway to evil spirits, to which permission has been granted. 
It says that if you are pricking your skin with a needle between 50 and 3,000 times per minute, you are also giving your blood, and you are making the choice to share your blood.
And by agreeing to and participating in the bloodshed that a tattoo entails, unknowingly (and this is why God forgives) you have already given the devil a sort of claim on you.
The famous tattoo artist Paul Booth has said that the best thing in a tattoo is to allow the demons of your clients to help guide the needle.
And Anton LaVey, founder of the Church of Satan in the United States, has publicly confessed that behind every tattoo, be it a flower or a dragon, is satanism, because he not only conceived it, but also wanted this trend to spread. 
Finally there are testimonials from people who have the sensitivity to locate tattoo parlors from a distance.
They say they can spot or "feel" a tattoo parlor over a mile away, for all the demons surrounding it.
These demons are tied to the room like neon signs.
And they say they still haven't found a tattoo parlor without demons connected to it.
Tattoo artists can have demons, even Christian tattoo artists.
And those demons can be easily transferred to the tattooed.
Thus, caution — not despair, but awareness. There is always a way back. It can be quick. Go to the Blood that heals, that sanctifies, not the blood provoked by tattooing. Just ask Jesus.
Well, up to here what we wanted to tell about the link between tattoos and demons, which can become a portal for demons to enter the person.
And I would like to ask you if you have met any tattooed person who seems to be suffering from some demonic attack or not.
PRAYER FOR DEACTIVATION OF TATTOOS (FOR LAY PEOPLE)
In the Holy Name of Jesus, through the authority of natural law and my Baptism, through the merits of the Passion, Death, Resurrection, and Ascension of our Lord Jesus and His sending of the Holy Spirit, I remove this tattoo and break and I sever all connections between this tattoo and the Evil One and his associates. I ask you, Heavenly Father, to drive out any demons that may have attached themselves to me because of this tattoo and to purify the ink that was used to make it. I ask you to break all connections between the image and any demons that may have attached  themselves to me because of the tattoo. In the Name of Jesus, I void any claims or rights that demons may claim to me due to any magical images, symbols, or writing incorporated into the tattoo. And through the Sign of the Cross (make the sign of the cross over the tattoo. Use exorcised oil if possible), I consecrate myself to our Lord Jesus Christ through the Immaculate hands of the Blessed Virgin Mary. In the Name of the Father and of the Son and of the Holy Spirit, Amen.