From Forums of the Virgin Mary [translation]:
The different ways of transferring Evil Spirits and how to take precautions [views expressed are not necessarily ours]
Have you been at an event or in the cinema, when suddenly someone screams and a feeling of fear or panic seizes people? 
And have you noticed how in groups of friends they stick to the same tics, way of speaking, and attitudes, or even develop the same ways of viewing the world?
It is the same thing that happens when a person comes into contact with the cold virus and gets sick.
The spirits are transferred from one person to another or just in the environment, and then they affect you.
This happens in the material and spiritual world.
Here we will talk about how evil spirits are transferred, including through prayer for other people, and even more so through the laying on of hands, and we will talk about what care you need to take to protect yourself.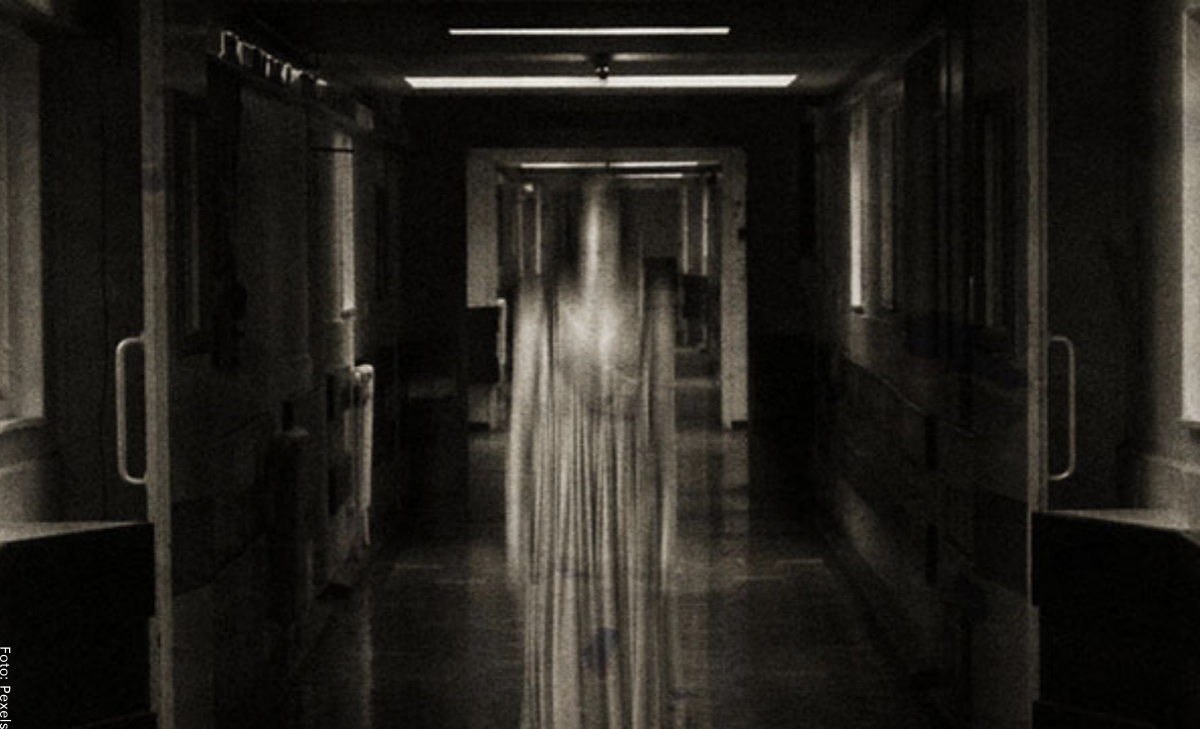 Our bodies have different physical doors through which the soul or the mind can receive information; there are the five senses, but then there are the things that come to our minds as dreams or simple happenings in life.
A person's spirit can be influenced by good or evil spiritual forces, good angels or bad angels, through these gates.
And we can open our spiritual doors to blessings when we obey the word of God.
Or we can open spiritual doors that lead us to a curse, when for example we accept sin.
The Bible says that Yahweh told Moses to gather 70 of the elders of Israel and bring them to the door of the Tabernacle.
He would come down and take the spirit that is in Moses and put it in them, so that they would bear the burden of the people, not just Moses.
In other words, the spirit that was in Moses was transferred to these elders.
And this happens to us all the time, or spiritual forces can do it to us through the groups in which we circulate, what we say to people, what we preach, and also through the laying on of hands.
When we do these things, we transfer our spirits; we extend it to a person or group and vice versa.
And what about the transfer of evil spirits?
They can penetrate when we embrace and justify sin. And when our thoughts are impure. When we are not properly founded in love.
Also when we have had traumatic experiences and we have not overcome them, for example abuse, rejection, serious accidents, divorce, and economic problems.
We also open the door when we believe some apparently innocuous lies from the enemy that give us an excuse or urge to smoke marijuana or have one-too-many drinks.
Evil spirits also enter when we are exposed to impious things, such as pornography, horror movies, satanic music, impious friendships that cultivate esotericism and the occult, horoscopes, and card readings.
Not forgiving likewise generates resentment and through that resentment the evil one enters.
And it can also enter when we have been cursed in some way.
Curses can be specifically spoken upon us or come through spells or works.
Or they can happen to us without us having any activity, as with generational curses, which are transferred through the family lineage and can include alcoholism, suicide, and abuse, among many wrong tendencies.
In our culture today we are exposed to many different forms of "entertainment" and "activities" that can be used to transfer negative spirits onto us.
It may be through the "music" we listen to, the "materials" we watch and read, the TV shows and movies we watch, the "games" we play, the social media we participate in.
Many of the current crime and violence problems among our youth are a direct result of transference of spirits through these forms of "entertainment."

Because sooner or later, what we feed our minds will reach our hearts. [scroll for more]

We are not talking about brief encounters with these things but continual exposure to their influences and the "spirits" behind them. 
And of course, the danger will depend on the type of material and our receptivity to it.
When a person transfers an evil spirit, it does not mean that he or she is possessed, but simply that he or she is receptive or has a door open for evil spirits to act through them.
For example, satanic rock bands have been known to get their hands on recordings they've made, where all kinds of evil expressions are broadcast, with the intention of transferring the spirits there.
Our sins are one of the doors that we open for evil spirits.
Remember that we sin with our eyes, our ears, our hands, our tongues, and our minds.
But another person can also transmit an evil spirit to us by the contact of laying hands on him.
A warning to this we can see clearly in 1 Timothy 5:22 where it says literally,
"Do not be in a hurry to lay hands on anyone; lest you become an accomplice in the sins of others, keep yourself pure." We are called by Jesus to heal and deliver, but should always pray and fast before laying on hands or having them placed upon us.
These types of transfers occur without our request.
When you pray for someone over whom you have no authority, such as a friend, you may experience that person's cross and receive the "fiery darts of the devil."
There are cases during the transfer which God allows the person who prays deliverance prayers to carry the cross of the afflicted person, so that the victim receives healing graces when the cross leaves his shoulders.
It is the great mystery that Saint Paul says in Galatians 6:2:
"Carry each other's burdens and thus you will fulfill the law of Christ."
Saint Faustina Kowalska says in her diary (41) that she saw a servant of God in immediate danger of committing a mortal sin. She began to beg God to send all the torments to her and she felt a crown of thorns on her head that lasted 3 hours.
The servant of God was freed from this sin and his soul was strengthened by a special Grace from the Lord.
And Deacon Guadalupe Rodríguez says he prayed for a grieving person and received a transfer.
He prayed deliverance prayers for a struggling drug addict. And for a whole day, he had a great desire for drugs.
This happened so that the person could experience the cross coming off his back and could receive the healing graces to combat the addiction.
And Saint Faustina in her diary (#192) gives another example of emotional transference, a terrible temptation that one of the students in the house in Warsaw was going through.
The temptation was suicide and for 7 days she suffered this temptation.
These transfers do not last long as a general rule.
And the best way to get rid of them is by praying liberation prayers for oneself, in front of the Blessed Sacrament.
It is important to anticipate possible transfers when we pray for someone and especially when we lay hands on them.
Those who are in the deliverance ministry, for example, should be people of deep prayer and be in Grace when they pray deliverance prayers for other people.
And also be willing to have some pain and suffering out of deep love for God, in the cases (not necessarily numerous) when that may occur. [For discernment. Views expressed here are those of Forums.]
It is always advisable to say a protection prayer before the liberation session, to avoid the transfer of spirits of affliction and illness.
Prayer can invoke the Name and Blood of Jesus for protection, and bind any spirits of retaliation.
Also in this prayer you can invoke the protection of the Blessed Virgin and the Holy Angels.
Another strategy is to put Jesus in the middle to eliminate any retaliation.
This is done by focusing on Jesus, imagining that He stands between you and the person or group that has the curse or affliction.
And one can also declare the conviction that Jesus the Good Shepherd is the only protector.
And then ask for His shield and imagine a shield around you.
The difficulty is that these transfers can come to you without you realizing how they got there.
And what to do in these cases?
At such times you should disconnect from any unpleasant thoughts and reject them.
If it's dark, turn on the light and see the sun, go for a walk.
Pray to God with faith, giving him thanks for the help you ask for and asking him to send his angels to help you.
Turn off your imagination and focus on the present moment; don't think about things from the past or what can happen in the future.
Be careful what you eat and drink. Start reading Scripture or a devotional book.
Socialize with other people who are positive and help you change your mood.
And if it persists, fast.
Play a CD with Gregorian chants or Catholic music.
Remember the good things that have happened to you in life and all the blessings that God has given you.
Remember people who have been your benefactors or to whom you are closely linked.
Well, up to here what Forums wanted to tell about how spirit transfers work, especially negative spirits, and the care that must be taken so that they do not affect you too much.
And I would like to ask you if you have ever realized that someone was transferring a negative spirit to you and what did you do to defend yourself?
[resources: spiritual warfare books]