---
'Tis the season of ghouls and ghosts, and so a question: We know spirits can attach to people and places. Can they also attach to objects?
If you believe a flurry of testimonies, the answer is strongly in the affirmative and the asomatous, it seems, is all around us. One realty report claims nearly two in five people believe they have live in one, with 44 percent of them saying they were fully aware it was haunted before moving in.
There have been, says a Netflix show called "Paranormal Survivors," some truly daunting "hauntings."
Watch with Holy Water next to the popcorn — if you must watch at all (but for research: not advised).
Let us pray.
In 1992, in Brookhaven, Pennsylvania, for example, David and Cyndi Malone were tormented by a spirit that allegedly opened cabinet doors, slammed them shut  all at once, put their dining room chairs on top of the table one night, and physically assaulted the husband, causing him to levitate and then beating him to the floor.
In this case the spirit was allegedly seen face to face. The entity's skin was distorted, as if scarred by a severe fire, said David — who seems very credible. The entity's breath caused him (excuse this) to "want to choke and vomit." "It made me fear for my life," he tells an interviewer — and no small matter, this: his 21-year-old son ended up committing suicide.
A ghost?
A demon.
In another case, in Taylor, Michigan, an old photograph left in a house owned by Gloria Kolasinski and discovered under floor tiles seemed the root of eerie sounds and blatant phenomena that included an unusual, pervasive, earthy odor (like the dirt at a graveyard). At one point — investigating sounds in a cellar with a young man — what seemed like steam suddenly rose around them.
Strong manifestations.
What was it about the picture? (Let us pray, once more — "the Lord rebuke you Satan!")
Most who saw the photo (the pictured man's wife is also in it) couldn't stand it for reasons that were hard to explain. When they called in a "paranormal investigator" (read: medium) to "cleanse" the home (they always seem to burn some sort of herb), the eyes in the picture turned blue.
Inadvisable: bringing in "psychics."
Some claim it works, but it can be like fighting a fire — occult versus occult — with gasoline. 
A so-called ghost expert in Savannah tells us that the city's stature as one of America's most haunted cities (in our view, probably the most haunted, along with New Orleans) may go back thousands of years to ancient paleo-Indians, as well as graves of war dead from early U.S. history.
Was voodoo practiced there? Yes. There were also: the pirates.
And then there is the haunted Camaro in Homestead, Florida, an antique car that a former New York transit authority officer bought and claims was the center of a terrifying eruption of phenomena — first noises outside, a face in the window of his home (even though the window was eight feet from the ground), then a demonic figure that entered his room and came right up to his face, also — as one blogger described it, "like a member of Black Sabbath — circa 1975: long black hair, black leather jacket and a evil scowl with eye paint."
In this case, wires were even pulled from the automobile's dashboard by extramundane hands and after an attempt at a "paranormal" cleansing, the phantom left — but the car: it never started again.
In England, says the Mail, "an eight-year-old changed overnight from a happy and loving little boy into a crazed 'demon' child after suffering an infection. A week after developing a fever, William Hewlett suddenly became violent, suffered sinister hallucinations, didn't recognize his parents and said he wanted to die. His mother Johanne, 43, described the baffling transformation as like 'something out of The Exorcist and believes it is down to a brain disorder 'triggered by mold' at their former home."
Spirits can be around us for various reasons — sin, bad habits, emotional or physical injury, what we watch (yes, including ghost-hunter shows), what we own, what we obsess about; sometimes pictures, artifacts, and antiques. If you have anything related to voodoo or witchcraft (even those cute kitchen witches), or to Stephen King — to cite a few examples — dispense of them.
And keep Holy Water nearby.
Every home should have that all the time.
Don't leave your home without it.
[resources: spiritual warfare books]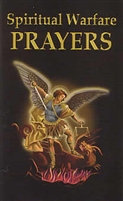 [Footnote: How prevalent are hauntings? Says a Fox News item today: "According to realtor.com's annual Haunted Real Estate report, one in three people — especially millennials — are willing to take a chance on a haunted house. The only caveat? The realtor needs to throw in a little something to sweeten deal. Topping that wish list, according to the report, was a big discount at 15 percent, followed by a tie of either a larger kitchen or a better neighborhood at 9 percent."]