---
Explosions, storm clouds, dreams: are they metaphors for the spiritual reality that approaches or already engulfs us?
The above photo, from Global News, contains what one could see as obumbrated profiles of the demonic bursting and rolling forth onto the scene.
That's what one correspondent of ours recently dreamt about: huge, towering entities coming from dark clouds rising from the oceans and tearing up the terrain, ripping off the front of a bus, heading for homes, where there was a sudden and dense swarm of "mosquitoes."
Similes. Metaphors. 
There are different types of evil spirits in the demon hierarchy, the greatest being those that tower over a region and the least might be represented by those insects — the least and yet also the most pervasive. He saw them filling a home. The air was nubilous — and about to darken precipitously.
If we are entering a period of greatly heightened battle — and we are — what is the best defense?
Mass. The Bible. Especially the Bible, and especially Ephesians 6! Blessed Salt. The Benedict Crucifix. The Miraculous Medal. The list is long, in our great Faith. Holy Water.
Others have had similar dreams — of a massive and imminent offensive by the netherworld. Some envision the offensive coming with particularly fury this autumn — not just a societal and cultural maelstrom but one directed against all who serve in the various denominations of Christianity (though be assured it "rains" on the evil as well as good).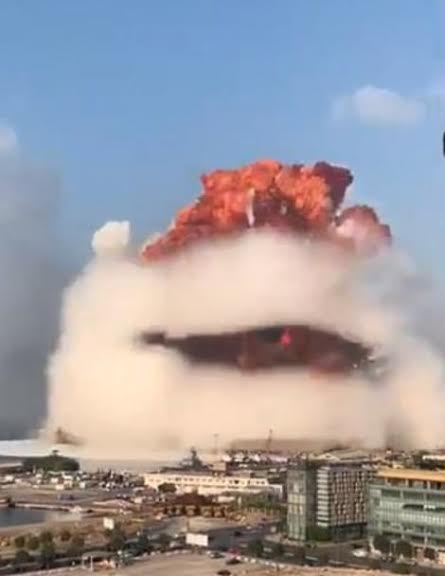 Is it (above, the explosion in Beirut) like some angry thing is looking at us — peering through a slit in our earthly dimension?
Some see the same "eyes" below. Assuredly, many see nothing: just the capricious whorls and curls of smoke, which can make any shape one might impute through imagination.
"When you see the great smoke rise, Satan will have touched the earth," said a locution we quoted a couple of years ago. "His manifestation will be near. He will seek to destroy what Christ has built, as Jesus came to destroy the work of the devil. In the end, the Cross will predominate, but not before the end of an era that has strayed."
Below from Sky News: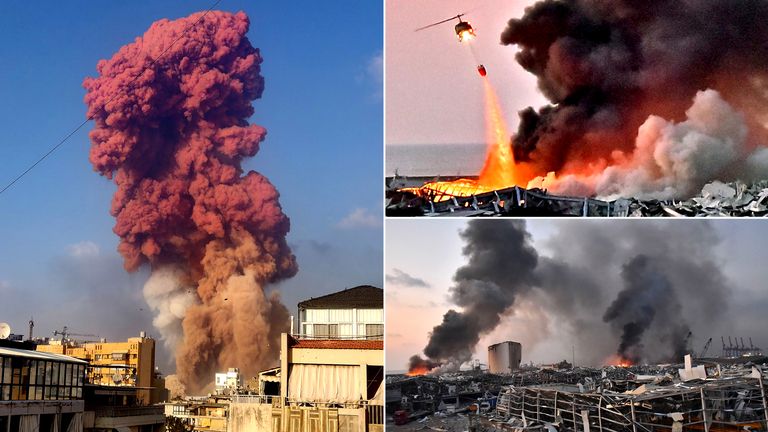 It's a little like September 11.
Remember this from the fires in Victoria, Australia?
Is it Jesus or Satan?
Let's choose to look for Jesus.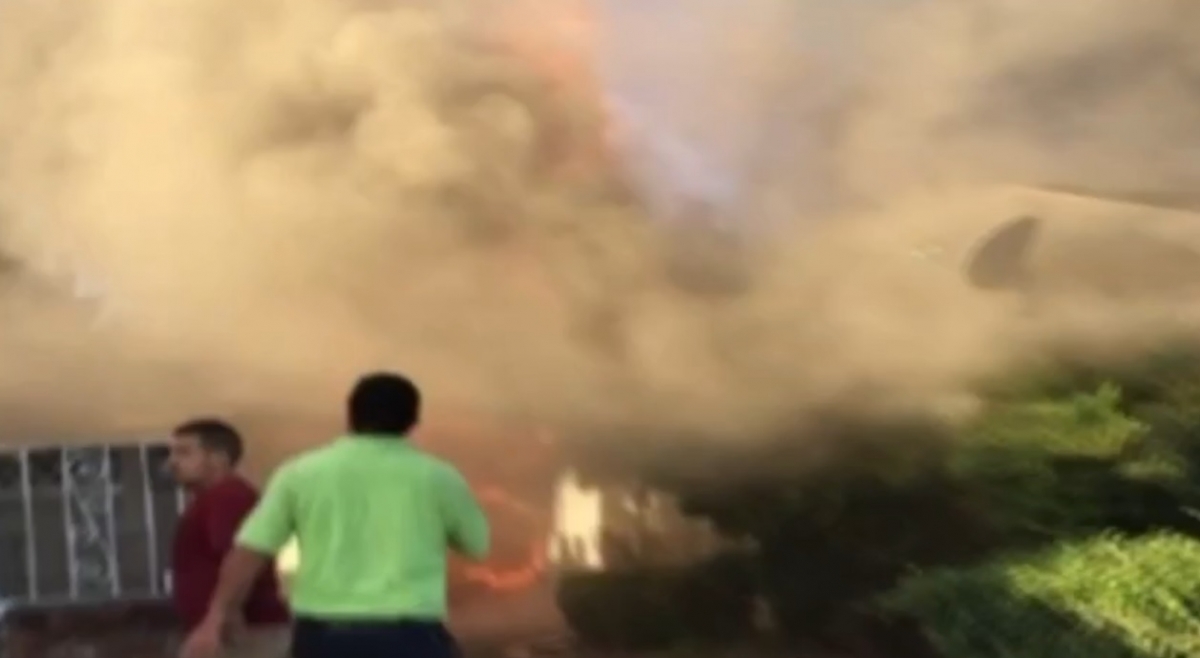 And let's choose to brace ourselves with prayer and fasting, which can halt the intrusion of any demonic force into our homes and families.
NGC 5189: An Unusually Complex Planetary Nebula
[Mailbag: "
Hello Michael H Brown,
Just sending in my anonymous testimony.
I had an injury a few weeks ago was in a lot of pain during recovery. For the first 4 weeks I had a dream/ nightmare with demons, every night at 3am.
One particular dream lasted a long time and this is what happened:
In the dream I looked up to my left, and noticed a person in a suit, levitating, looking down at me. This person was in the form of a white male with black hair, wearing a tuxedo suit. My spirit instantly knew this was a demon. The being was levitating, and looking at me with a sneer/ smirk/ hatred, I knew in my spirit it wanted to attack me but was wary of the fact that God has in the last 10 yrs given me the grace to recognise in a dream if I am being demonically attacked and how to rebuke evil spirits in Jesus Name.
What followed was a long series of me praying various prayers to banish him from me, with the demon constantly lying to me that the prayers had no power (though his eyes widened in fear at every prayer) and he continually smirked arrogantly (as a pretence that he was unaffected), disappearing but then reappearing after each prayer.  Like a trial permitted by God to teach me about prayer and spiritual warfare.
I instantly launched into a load of prayers that I have found work and that in the past have banished demonic presence in my dreams. I said aloud; 'In the Name of Jesus I am not afraid and you have no power over me and cannot harm me in the Name of Jesus.'
The demon's eyes looked afraid at the mention of Jesus and these prayers. However he continually spoke as I prayed, to taunt me, distract me, and challenge me to doubt the power of those prayers. He said; 'Why are you saying that Name. Don't say that Name. That Name has no power over Me. He wasn't the Messiah. He was just a man. Why would that Name have any power over me.'
I noticed that he half moved slightly as if he wished to physically attack me, if he could make me doubt the power of the Name of Jesus.
I replied, 'In the Name of Jesus leave me now and never return.'
(His eyes widened in fear, though he continually put on a pretence of smirking arrogantly, he disappeared, but then reappeared). He continually spoke to make me doubt; 'Why did you use that Name, that Name has no power over me.'
I made the sign of the Cross at him.  He disappeared then reappeared saying, 'That has no power over me. Why don't you stop praying.'
I said the St Michael prayer. I said the St Anthony's Brief prayer. I said the Hail Mary. I said the begone in the Name of Jesus and Mary. I said begone through the intercession of St Gemma Galgani.
For each of these his eyes looked terrified, but he constantly spoke and disappeared then reappeared.
I then said aloud;
'Dear Jesus, I am not a victim soul such as Padre Pio or St Gemma Galgani, whom you permitted to be beaten by satan/ demons. I am an ordinary catholic and you do not permit ordinary catholics to be attacked directly by satan. Please dear God give me a weapon that I can use against this demon. Thank you God for answering my prayer!' (I said this with faith, knowing faith obtains).
The demon looked very worried at this but kept speaking taunts.
I looked to my left and noticed a box with a wooden Cross. (It resembled a technical drawing T square, which was a subject I struggled with, but tried out because I had a love and gift for drawing. I wondered was God saying by this symbol that my past suffering with this subject, and my use of my drawing gift, were redemptive).
I picked up the Cross and started swiping at the demon with it. His eyes were now extremely afraid but he refused to stop taunting me.
I said aloud with faith; 'You have no power against the Cross of Christ, you were defeated by the Cross, and by the Cross your permanent exile is banishment to Hell rather than tormenting souls on earth.'
At each swipe of the Cross the demon fell apart, his arms fell off, his legs fell off, however his head stayed levitating where it was unnaturally, and his tongue waggled as he kept speaking temptations to me; 'This doesn't hurt. This has no power over me. Stop what you are doing. That thing has no power over me.'
The wooden cross swiped his head into pieces and then swiped his tongue into pieces (which he stuck out and wiggled to frighten me).
Then I used the Cross like a sweeping brush. And swept all the pieces of the demon out the door of the room.
In the dream I then decided, I am going to go to my parents and tell them what happened.
At that I instantly woke up.
My heart began pounding like a rocket, and my breath was going very fast.
I looked at the digital clock in my room and it said 3:03am
I went over to my locker and brought over a blessed wooden Crucifix that  I own and left it on the arm of the arm of the recliner chair that I was sleeping on during my recovery from my injury, and the nightmares (which had been happening for 4 weeks), stopped.
(I used to have demonic dreams at 3am every single night when I first returned to the Catholic Faith 9 yrs ago. The dreams stopped after God showed me that is I simply thought, or spoke the Name Jesus in the dream, I would instantly wake up in peace, and whatever demonic being was in the dream would instantly flee). The dreams stopped after I began using Jesus Name if I had such dreams, and after a number of short weeks, the dreams stopped, I am sure because the demons were terrified of the Name Jesus, as scripture says; 'in the Name of Jesus demons have to flee.'
All the best,
Michael"]